There are those times — and it doesn't have to be in the dead of winter — when you crave a really hefty, hearty, satisfying soup. A rainy day, a sudden head cold, and you want some soup NOW. This delicious salsa black bean soup is yours in not more than 20 minutes. Seriously. And it's made with common ingredients you can find anywhere.
The only thing I urge you to splurge for — and it's not much of a splurge — is organic canned black beans. That's because the liquid they come in is a lot more like broth than like slime-water, making a lovely thick base for the soup. And the fact that many brands of organic beans come in BPA-free cans is a bonus as well. A jar of good salsa gives the soup a huge flavor boost. Thanks to VegKitchen contributor Hannah Brown for this tasty idea.
Serves: 4 to 6
Time to table: 20 minutes
1 tablespoon olive oil

1 medium onion, chopped

1 bell pepper, diced (see note for further shortcut)

1 teaspoon chili powder

1 teaspoon ground cumin

3 (15-ounce) cans black beans (preferably organic), undrained

16-ounce jar salsa (see note)

Salt and freshly ground pepper to taste (you may not need salt)
Optional toppings
Fried tempeh bacon, crumbled

Crumbled tortilla chips

Chopped cilantro

Vegan chedder or pepper jack shreds

Sriracha, cholula, or other hot sauce
Heat the oil in a soup pot. Sauté the onion over medium heat until translucent, about 3 to 4 minutes. Add the bell pepper and sauté until the onion is golden.
Stir in the chili powder and cumin, and sauté for a minute or two longer.
Add the remaining ingredients (except the optional toppings. Bring to a slow boil, then lower the heat and simmer for 5 to 10 minutes longer.
Adjust the consistency with a little water if need be, but let the soup stay nice and thick.
Individual servings of this tasty salsa black bean soup can be embellished with any of the optional toppings, but this soup is great just as is.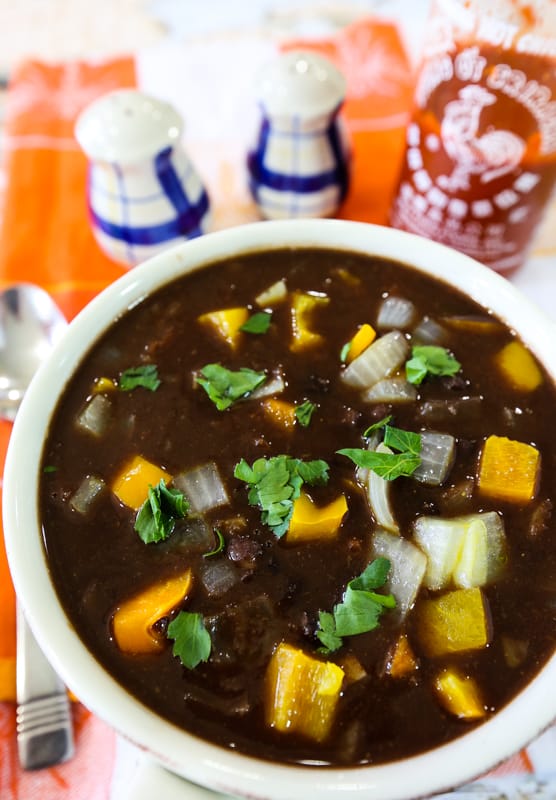 Photos by Evan Atlas