A great cup of coffee is the best way to begin your day. However, some people would prefer a smoothie for their breakfast. What if you could combine the two in one delicious blend? The caffeine in your java will get you started,and the energy packed into fresh fruits that will keep you moving. If you're on a plant-based diet, you'll love these five coffee vegan smoothies. Try them all this summer! Recipes contributed by Gimoka.
Italian Espresso Mocha Smoothie Recipe
Prep time: 10 minutes
Serves: 1
1 cup strained home-made almond milk (can be bought, unsweetened)

¼ cup Italian espresso

1½ tablespoons raw cacao powder

¼ peeled and crushed avocado

⅓ cup chopped crushed dates, add more to taste

1 teaspoon natural vanilla extract

⅛

 

teaspoon cinnamon powder, add more to taste

Agave syrup

1 cup ice, or more to taste
You may leave your brewed coffee in the refrigerator overnight to cool.
Combine all the ingredients except the ice in your blender and process at a high speed for about ½ to 1 minute, until it becomes a smooth creamy mixture.
Add the ice and run the blender on high for 10 or 20 seconds. It should appear smooth and consistent like a frappuccino.
Add more cinnamon, dates, and ice to taste, if desired.
Coffee and Cashew Smoothie
The cashews give this decanted blend its creamy texture besides adding about 5 grams of protein. This way, you will stay full for longer and your blood sugar will be in check too.
Prep time:  10 minutes
Serving: 1
¼

 

cup cashews (soak them in water for at least six hours or so)

½ banana, peeled and mashed (could be frozen)

1 tablespoon shelled and crushed cacao

½ cup ice cubes

¼ cup of fresh brewed coffee (cold)

1 cup almond milk (unsweetened)

½

 

tablespoon coconut sugar (optional)
Combine all the ingredients in your blender and process until smooth. Serve at once.
Chunky Coffee Smoothie
Prep time: 1 minute
Serves: 2
Any combination of peanut butter, chocolate and banana is a perfect brunch treat. Add coffee and you will get a loaded mixture that gives you all it takes to tackle even the chaotic day of your life.
2 tablespoons cocoa powder

½ cup almond milk

½ cup peeled frozen mashed banana 

1 cup coffee (cold or ice cubes)

1 frozen banana

Pinch of salt

2 tablespoons peanut butter
Combine all the ingredients except salt and peanut butter in a blender and process gently until smooth.
Add the salt and peanut butter, pulse a few times, then serve.
Coconut Coffee Whip
Prep time: 7 minutes
Serves: 1
Isn't everyone praising bulletproof coffee for its instant boost in energy, alertness, and reduced cravings these days? Here is a vegan version of the increasingly popular breakfast staple. Remember, bulletproof coffee is based on upgraded coffee beans. In this recipe, you can use a left-over brew of French press or of a medium ground roast Italian coffee.
1 can coconut milk 

1 peeled frozen banana

½ cup coffee ice cubes

1 scoop hemp or pea protein powder (optional)

Unsweetened coconut chips
Leave the canned coconut milk inside the fridge overnight to chill. The following morning, remove the solid cream on top gently using a spoon. Set the liquid aside. This is what you'll use in the smoothie. Beat it manually for about 3 to 5 seconds into a thick cream.
Combine the frozen banana, coffee ice cubes, coconut water, and optional protein powder in a blender. Whisk gently till smooth, and empty into a glass.
Top with 2 heaped tablespoons of the coconut cream and the coconut chips. Enjoy!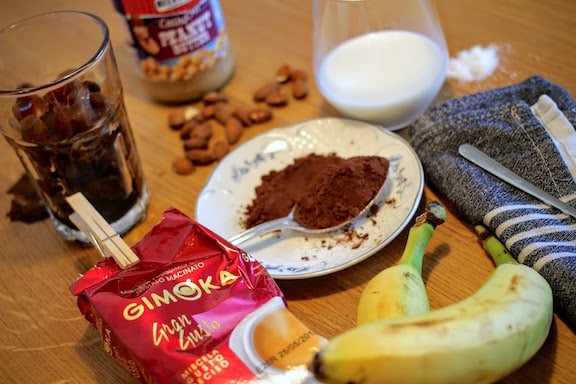 --
Contributed by Gimoka Coffee UK. Make the perfect Italian Espresso using either an espresso machine or a Mokka coffee pot. Gimoka coffee gives various products of coffees roasted and ground for Mokka and espresso machines. Examples of Gimoka espresso coffees are Miscela Bar, Dulcis Vitae, Gran Gala, Gran Gusto and Aurum.