If you're an eggplant fan, you'll enjoy these 6 delicious ways to use eggplant in main dishes. Whether you're vegan or just looking for more veggie-oriented meals, you'll love these! Creole Stuffed Eggplant (above) was inspired by recipes in old Creole cookbooks. It's filled with typical Creole flavors like celery, bell pepper, onion and garlic, and seasoned with fresh herbs — parsley, basil, and thyme. It's a heavenly dish for eggplant fans!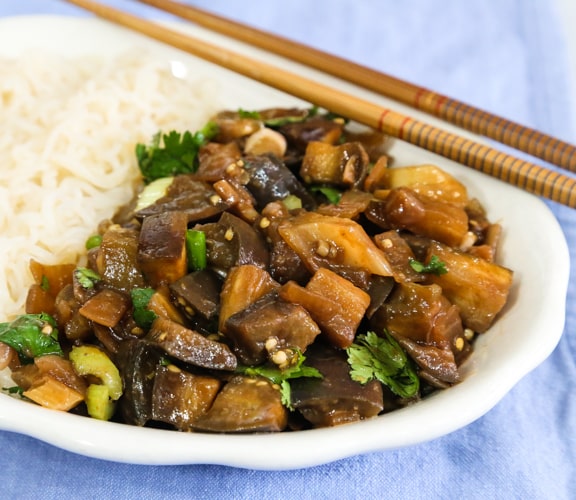 Spicy Szechuan-Style Eggplant is based on one of my favorite Chinese take-out dishes —with a lot less oil than its restaurant counterpart. I've devised this lower-fat version as a way to satisfy my craving for it. Add tofu to make it more of a main dish (see the variation below recipe box). Otherwise, you can serve alongside a simple tofu or seitan dish.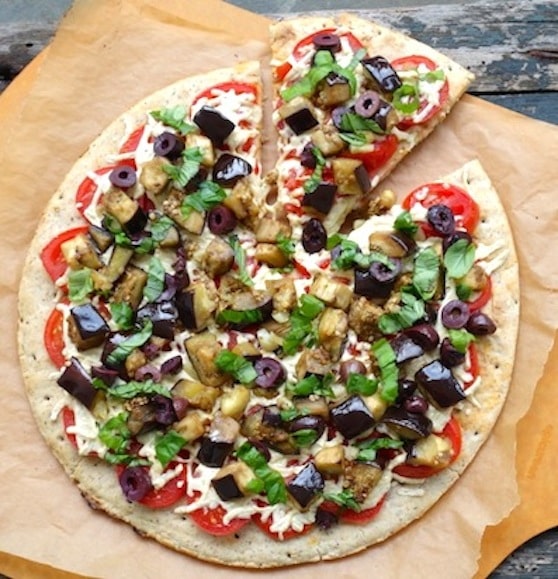 Fresh Tomato, Eggplant, and Olive Pizza features a trio of delectable toppings that make a simple vegan pizza special. You can enjoy it year round as long as you can find decent tomatoes. This pizza goes down easy, so double the recipe to serve a hungry crowd. Serve with a big colorful salad containing chickpeas for a simple and tasty meal.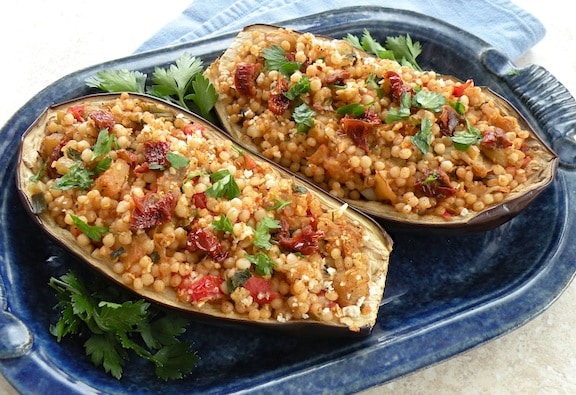 Couscous-Stuffed Eggplant is another delightful stuffed eggplant dish. Use regular couscous, or try it with Israeli couscous, as shown in the photo. Regular couscous has more of the look and feel of a grain; Israeli couscous more like a tiny pasta. If you're looking for a gluten-free variation, you can substitute quinoa, which is also excellent in this preparation.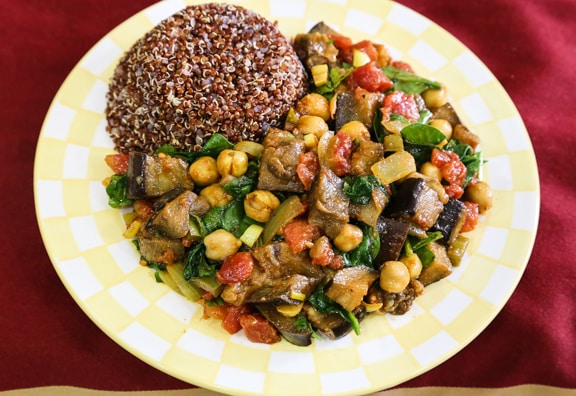 Roasted Eggplant Curry is a simplified variation of an eggplant dish appears that frequently on Indian restaurant menus as Baingan Bharata. Once the eggplant has been roasted and is cool enough to handle, this dish comes together quickly.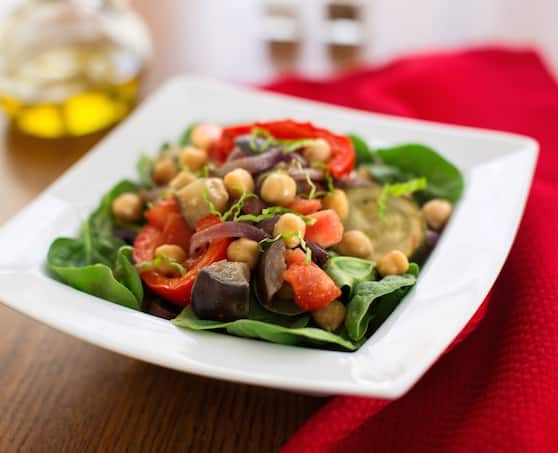 Roasted Ratatouille is a way to enjoy the flavors of summer, even during cold weather. The vegetables that make the classic French stew so delicious — eggplant, zucchini, bell pepper, and tomatoes are roasted in a hot oven for similarly delectable results. This can be enjoyed in a number flexible ways, as described below the main recipe — serve over pasta, polenta, or as a main-dish salad over greens, with chickpeas added, as shown above.