For this delightful couscous stuffed eggplant, you can use regular couscous, or try it with Israeli couscous, as shown in the photo. Regular couscous has more of the look and feel of a grain; Israeli couscous more like a tiny pasta. If you're looking for a gluten-free variation, you can substitute quinoa, which is also excellent in this preparation.
Serves: 4, generously or 8 as a side dish
1 cup raw couscous, regular or whole-grain,
or 1 cup Israeli couscous
2 medium eggplants, about 1 pound each
1 tablespoon olive oil
3 to 4 cloves garlic, minced
4 scallions, chopped
3 medium ripe tomatoes, diced
⅓ cup sun-dried tomatoes, cut into strips
¼ cup minced fresh parsley or basil, plus more for garnish
1 teaspoon Italian seasoning blend or ½ teaspoon each
dried oregano and dried basil
1 teaspoon sweet or smoked paprika
Pinch of dried hot red pepper flakes, or to taste
Salt and freshly ground pepper to taste
Preheat the oven to 375°F.
Cut the stem ends off the eggplants and cut each in half lengthwise. With a sharp knife, carefully cut away the eggplant pulp, leaving a shell about ½ inch thick all around. Chop the eggplant pulp finely and set aside.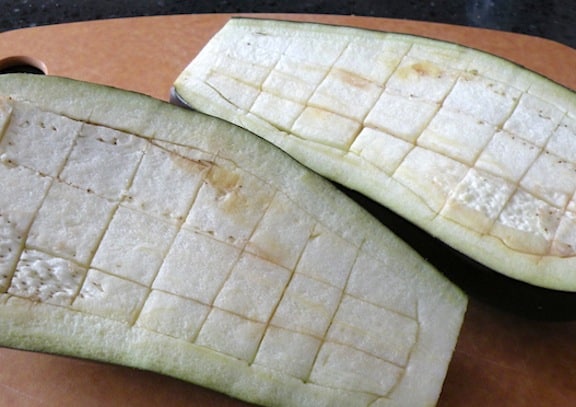 Place the eggplant shells in a casserole dish with about ¼ inch of water at the bottom. Cover with foil and bake for 20 minutes.
Meanwhile, prepare the stuffing. If using regular couscous, place in a heatproof container and pour 2 cups boiling water over it. Cover and let stand for 10 minutes, then fluff with a fork. If using Israeli couscous, bring 4 cups water to a boil in a saucepan, then add it to the water. Cook at a steady simmer until al dente, about 10 minutes, then drain.
Heat the olive oil and ¼ cup water in a large skillet. Add the diced eggplant and the garlic and cook, covered, over low heat until the eggplant is just turning tender. Stir occasionally.
Add the scallions and tomatoes and cook until they've softened a bit. Add the remaining ingredients followed by the cooked couscous Stir together and cook for just another minute or two, then remove from the heat.
Remove the eggplant shells from the oven and divide the couscous mixture between them. Don't worry if there's too much, save it to use as a tasty side dish.
Cover the stuffed eggplants with foil and return to the oven. Bake for 20 to 25 minutes, or until the eggplant shells can be easily pierced through with a fork, but aren't overdone — you don't want them to collapse!
Serve at once, allowing one eggplant half for a very generous serving, or half of each eggplant half (divided crosswise) for more modest servings.
Variations:
Add about 4 ounces of cleaned and sliced baby bella (aka cremini) mushrooms at the same time as the eggplant and garlic.
And as suggested in the headnote, substitute quinoa (or rice, for that matter) for the couscous.