Sweet potatoes are vegetable heaven! If you do absolutely nothing other than bake or microwave them, they're still as delicious as all heck. Not to diss regular potatoes, but sweet potatoes have them beat in nutrients, especially in vitamin A and C. Though sweet potatoes are super tasty in their own right, stuffing them with other tasty ingredients takes them to a whole new level. You haven't really had the ultimate sweet potato experience until you've tried one of these 6 fantastic ways to stuff sweet potatoes.
We recommend using large sweet potatoes. If you're not opposed to microwaving, you can make quick work of this, allowing 3 to 4 minutes per sweet potato. They should be well done, but not mushy.
Otherwise, you'll have to plan ahead if you want to bake them (which can take about 45 minutes at 375º F, wrapped individually in foil). Either way, once you've got your baked potatoes, our fillings will have you eating and enjoying in no time.
The best part — you don't need to follow any recipes, just use the ideas below for inspiration.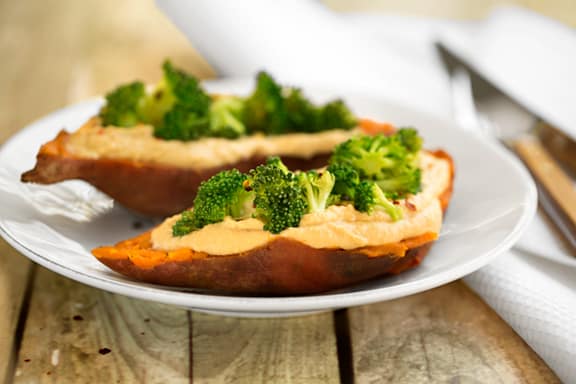 Hummus and broccoli: Tangy hummus is a great foil for the flavor of sweet potato. Broccoli pulls the two together. This one is almost a meal in itself, served with a simple salad or slaw. Simply slathor on the hummus and top with some lightly steamed broccoli. Since we're major food hackers here, you can use store-bought hummus, of course. But if you're less lazy, make your own.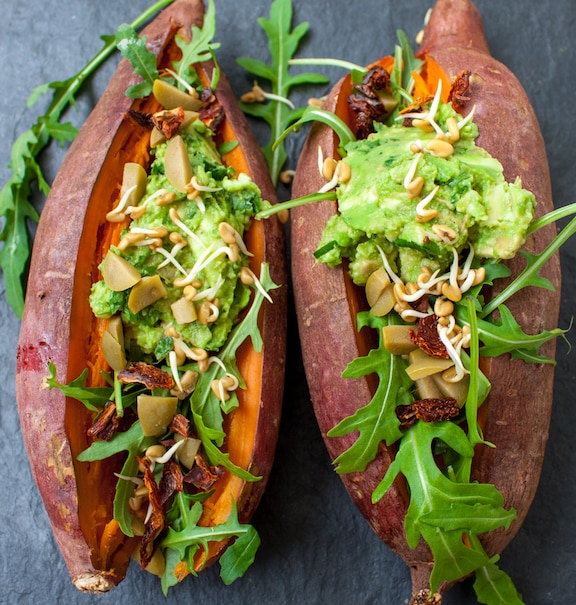 Arugula, olive, and avocado: Wow, what a sublime combination! Peppery arugula, briny olives, and mellow avocado contrast deliciously with the sweet potato. You can use prepared guacamole, but it's easy to just mash a ripe avocado with a little lemon or lime juice. Just layer some arugula leaves on your cooked sweet potato, followed by a dollop of mashed avocado, and a sprinkling of chopped green and/or black olives. Optional: you can also add fresh sprouts and/or sliced sun-dried tomatoes.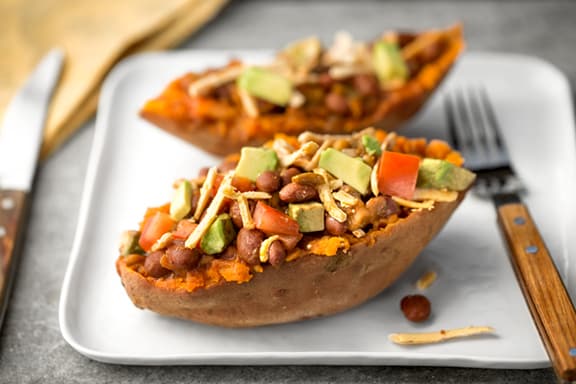 Chili-stuffed: For this one, we've a layered on Amy's chili, Daiya vegan cheese shreds, and some diced avocado and tomato. It's so filling, half of a sweet potato might be all you can handle, but if you've got a bigger appetite, both halves will provide plenty of satisfaction.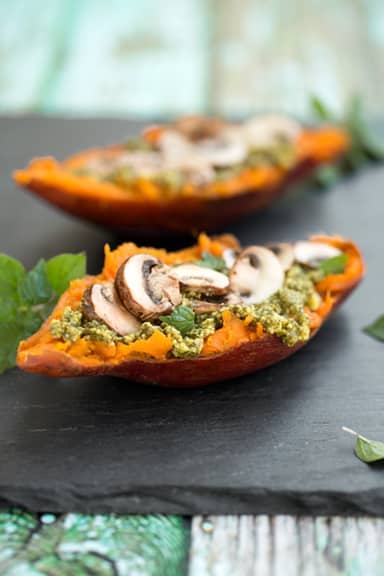 Pesto and mushrooms: There are more varieties of prepared vegan pesto sauces in the market than ever before. We used Amore for these shots, but see what your supermarket or natural foods store has to offer. The pestos are usually in the pasta aisle; sometimes in the produce section. Read labels carefully if you're looking for a dairy-free option. If you're a little more ambitious, you can make your own vegan pesto. Either way, use as much pesto on your sweet potato as you'd like, and top with some sliced, wilted brown mushrooms.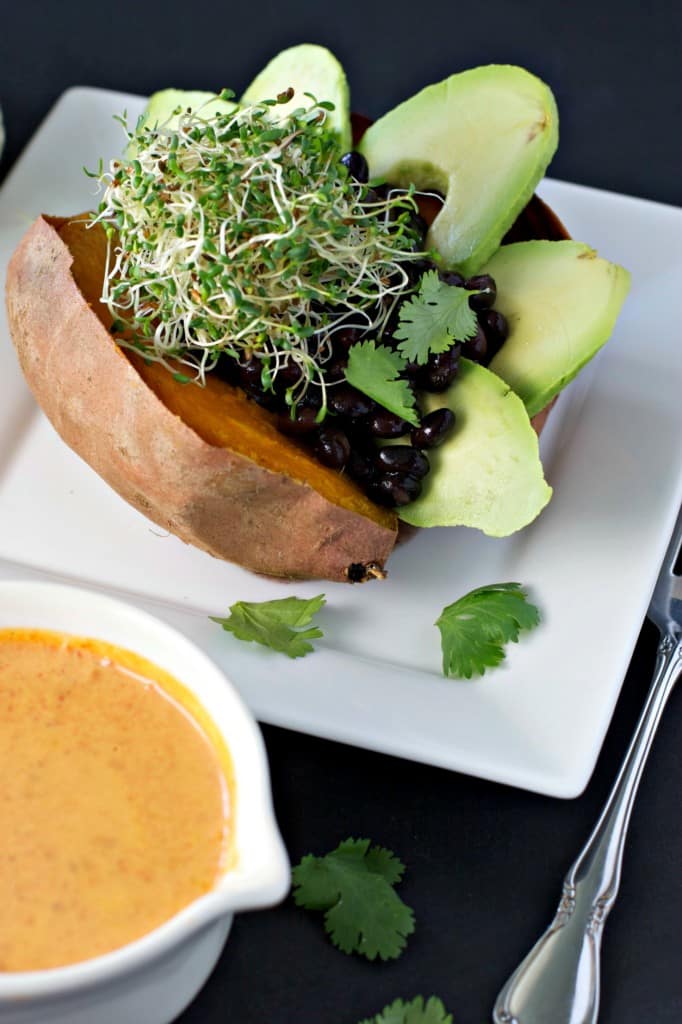 Black bean, sprouts, and avocado: Cristina Cavanaugh offers up these Loaded Sweet Potatoes with Chipotle Lime Tahini Sauce — as tasty as they are gorgeous. You can link through to the recipe, or just follow the photo — simply load your sweet potato with black beans, sprouts, and sliced avocado. Though the sauce isn't difficult to make, you can use a readymade tahini salad dressing if you'd like.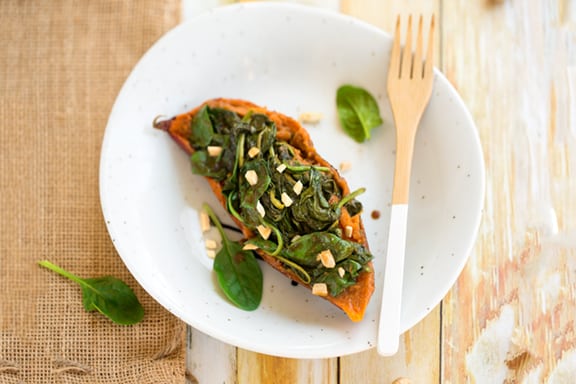 Spinach and Thai peanut: The combination of lots of wilted spinach and peanut sauce is made that much more heavenly when it's perched on a sweet potato. Simply wilt down a batch of baby spinach, bathe it in a good-quality prepared Thai peanut sauce, and load it onto sweet potato halves. If you'd like, you can top with some chopped peanuts, too.