When you start with a good-quality whole-grain prepared pizza crust and an all-natural sauce, honestly, you don't need to follow an exact recipe to make creative, delicious veggie pizzas. Vegan mozzarella-style cheese is optional in any of these variations. 
If you make too much of a topping, no worries, you can use it as a side dish, stir it into a grain, or make into a wrap with fresh greens the next day. As with most pizza recipes, preheat the oven to 425º F for standard pizza crust, or 400º F. for flatbreads or Italian bread. Read on and enjoy your veggie pizza improvisations!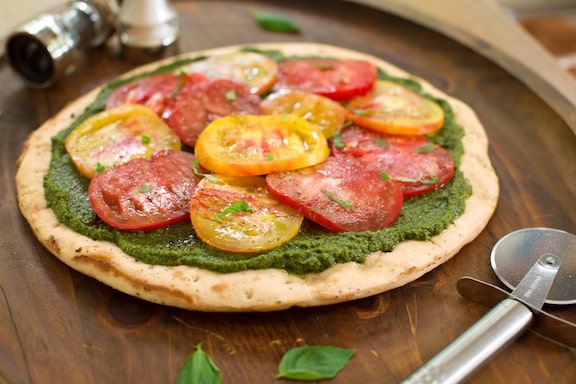 Pesto and heirloom tomato pizza: For this, simply bake the crust or smaller flatbreads (you can also grill them) to make more of a room temperature pizza. Spread the baked crust with pesto (see our basil pesto or spinach and basil pesto; or use a prepared variety — make sure it's vegan! ).
Arrange sliced heirloom tomatoes over the pesto, mixing yellow and red varieties. Sprinkle with salt and pepper, and top with more thinly sliced basil leaves. Some fresh oregano leaves would add a nice touch, too. This can be served at room temperature.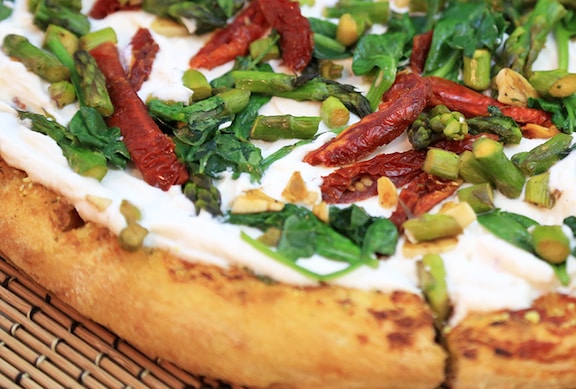 Asparagus and spinach pizza: This is a lovely idea for spring, and is good on red or white pizza. Cut plenty of slender asparagus into 1-inch lengths and steam until just tender-crisp in a large pan. Wilt down lots of spinach in the same pan. Drain the vegetables well. Spread evenly on the pizza once it has baked and finish with a scattering of sautéed garlic and/ or strips of sun-dried tomatoes.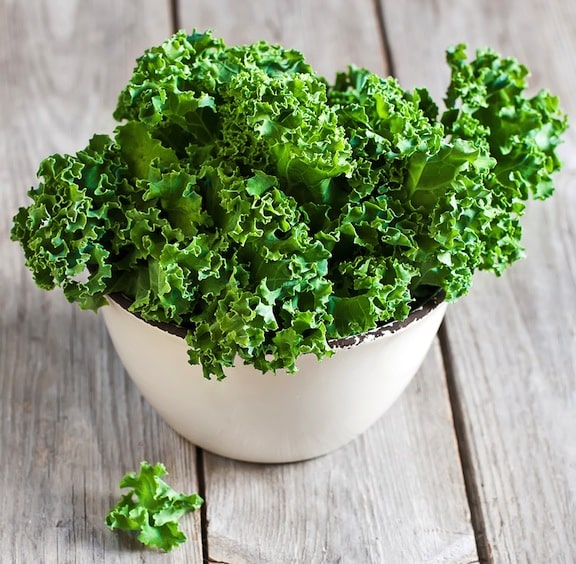 Kale, mushroom, and red onion pizza: Sauté a quartered and thinly sliced red onion (and a couple of cloves of minced garlic, if you'd like). Add a cup or more of sliced brown mushrooms, cover, and cook until wilted.
Add as much stemmed and thinly sliced kale (curly green or lacinato) as you'd like, and continue to cook until tender-crisp. Drain well. This is good on red or white pizza. Spread evenly atop pizza once it has baked. Return to the oven for a minute or two to allow the flavors to meld.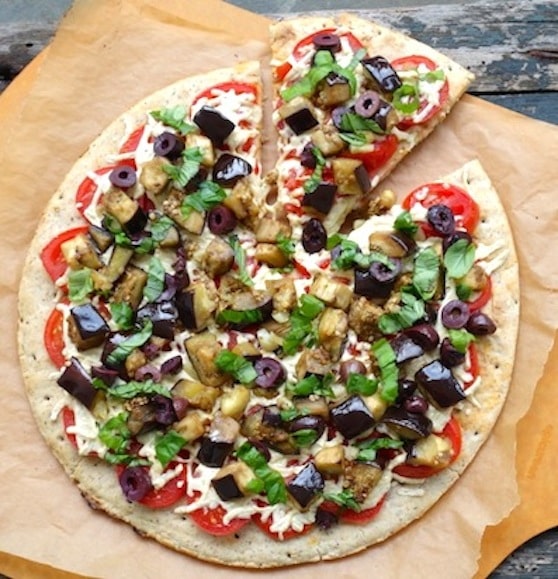 Eggplant pizza with olives and basil: Though this is good all year round, it's especially good for end of summer. Cut a smallish eggplant into dice, or better yet, slice a long Japanese ¼ inch thick.
Toss the eggplant with a modest amount of olive oil, place in a small pan, and start roasting about 5-10 minutes before the pizza goes in to the hot oven. 
Layer the pizza crust with marinara (or sliced fresh tomatoes for an extra summer flavor) and sprinkle on some vegan mozzarella. When both the pizza and eggplant are done (12-15 minutes for the pizza) pile on the roasted eggplant and chopped basil.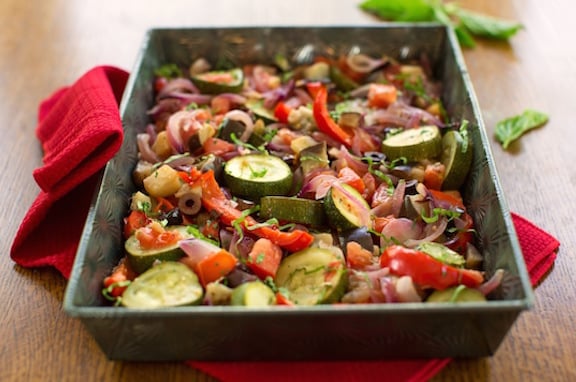 Ratatouille Pizza: Use the versatile recipe for Roasted Ratatouille to make a delicious pizza topping. This is especially good on a fresh tomato pizza, but it works well with all the other variations as well — red, white, or pesto.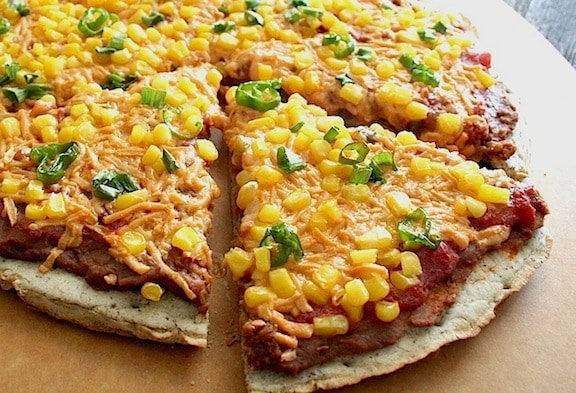 Mexican Pizza: Instead of marinara sauce, spread the crust with vegan refried beans, followed by your favorite salsa. Top with 1 cup or so vegan cheddar-style cheese.
Top with any or all of the following: sautéed yellow squash, green and/or red bell peppers, corn kernels, minced chili peppers, and plenty of cilantro.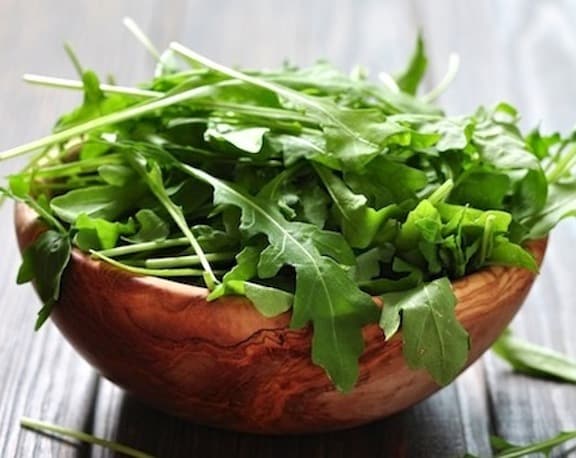 Potato or sweet potato and arugula pizza: Potato and arugula pizza is actually a classic combo, and while it does sound odd, it's very good. I like to dress it up by making it a white pizza. Spread crust with white pizza sauce, then arrange slices of firm-cooked and peeled potato (you'll need about two medium-large potatoes to cover a 12- to 14-inch crust) or sweet potato (also firm-cooked and peeled; a large one will do — more oblong works better than fat, round ones).
Sprinkle with a cup or so of mozzarella-style cheese, or leave it off. After removing from the oven, then sprinkle the top with lots of baby arugula leaves. Return to the oven for just a minute or two longer, or until the arugula wilts.