Baking is chemistry, while cooking is more of an art. If certain items are (or are not) present in your formula when you are baking something, then it will change the final product. This is true of vegan and non-vegan baking alike.
This article is a look at vegan gingerbread cookies, and what makes one recipe different from another. They are all gingerbread after all, so why would you prefer one recipe to another? This article takes a look at recipes for vegan gingerbread cookies in an attempt to help you find the perfect one for your holiday celebrations.
The elements of a good traditional gingerbread cookie are flour, fat, eggs, sugar, molasses, spices, leavening, and vanilla. Certain things must be in a gingerbread, like molasses, vanilla, leavening, and spices. The spices used and the amounts of each can make a big difference in the final product, so we will look at that for each recipe.
However, molasses is pretty much non-negotiable. Most of the recipes suggest a unsulphured and a non-blackstrap  molasses. Sulphured and blackstrap molasses have a stronger flavor and can overpower your cookies.
Eggs are obviously not an option for vegan cookies, but there are several things that you can use to replace eggs in your recipes. The most common replacement in these recipes is flax eggs (you can learn more about flax eggs in our vegan substitutions article), but there are several things that you can replace eggs with.
Egg replacements can bring moisture to the party, but they also help your cookie dough stay together. No egg replacement at all will make a dry and crunchy cookie, unless it is replaced with fat to create a more brownie like texture. For many people crunchy is the prefered form of gingerbread, so we have included recipes for that too. We hope that you will find the right formula for you perfect holiday gingerbread cookies here.
Vegan Gingerbread Cookies Recipes
Traditional Gingerbread Men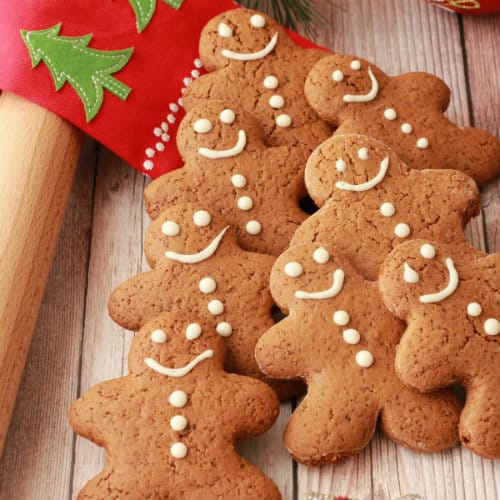 This recipe is as close to the original that I have seen. The recipe uses flax eggs for an egg replacement, and vegan butter. Otherwise, these are basically a traditional recipe with all purpose flour, brown sugar, and molasses. The spices are equal parts ginger and cinnamon for a more mild ginger taste, and just a touch of allspice and cloves for a light spice under note. This recipe also includes a great little recipe for icing to decorate the finished cookies with.
Get the recipe HERE.
Perfect Vegan Gingerbread Cookies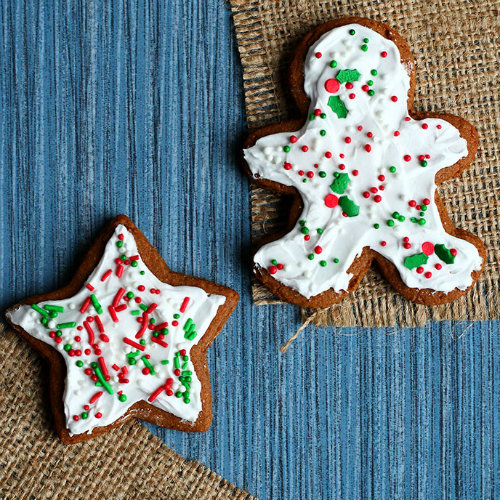 These cookies do not have an egg replacement of any kind, but it uses a good amount of coconut oil. These cookies will be moderately moist. The spices are simple and the use of nutmeg and cloves will make it more spiced, but ginger is the star in these cookies, with cinnamon a close second. We hope you like them.
Get the recipe HERE.
Spelt and Cardamom Gingerbread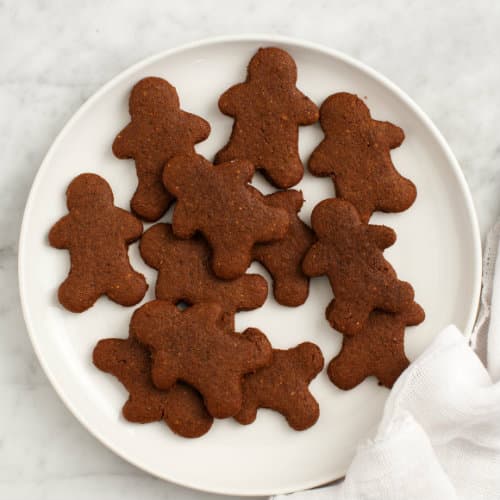 This recipe uses spelt flour, which is a bit sweeter than wheat and makes a soft and tender cookie. Note that Spelt DOES contain gluten, but less than wheat. The recipe also calls for flax eggs as an egg replacement, and uses coconut sugar for sweetening. The seasoning is equal parts cinnamon and ginger and a bit of cardamom that will add a delicate flavor to make your cookies stand out a bit from tradition. Almond butter and coconut oil will make a moist dough with a delicate richness.
Get the recipe HERE.
Gluten-Free Gingerbread Cookies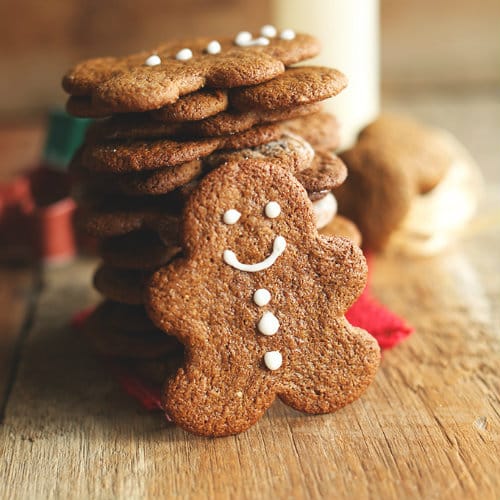 These cookies are for the person who is gluten free and/or struggles with celiac disease. The recipe uses a gluten-free baking and pancake mix for the flour element. Flax eggs, brown sugar, molasses, vegan butter, and almond butter ensure a rich and moist cookie. These are a simply spiced with ginger, cinnamon, and nutmeg, and they are the first ginger-dominant spice palate of the recipes in this list. These are great little moist cookies.
Get the recipe HERE.
Vegan & Paleo Gingerbread Cookies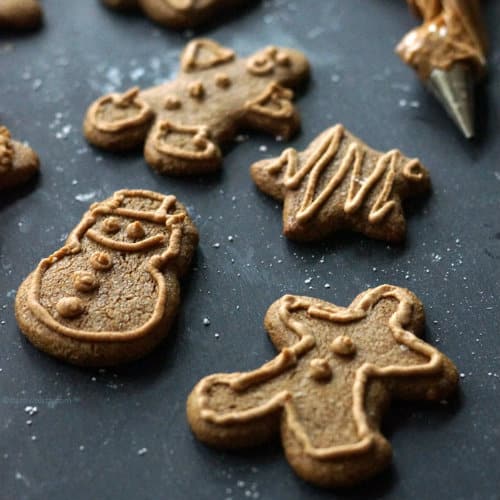 These are another gluten-free recipe, and they are also paleo friendly. They use almond meal and tapioca starch for the flour component. The recipe calls for pure maple syrup, and molasses to sweeten the little men. The spices are simple, and the ginger is four times the amount of the cinnamon. There is no egg replacement , so these will be on the dry crumbly side. There is also a recipe for a coconut sugar icing to decorate them with. These are a great choice for a vegan, gluten free, and paleo gingerbread.  
Get the recipe HERE.
Ginger Bomb Ginger Cookies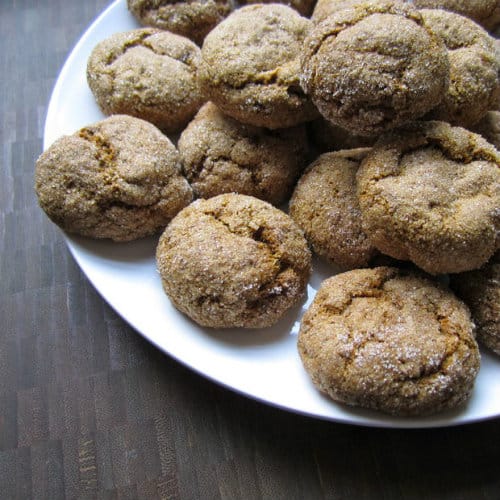 These cookies are for the lover of ginger. They use both dry ginger and fresh grated ginger for a good ginger punch. There is not an egg replacement, so these cookies will be crunchier. If you make them into drop cookies, instead of rolling and cutting them into men, then they will be moist in the center thanks to the molasses, brown sugar, and canola oil.
Get the recipe HERE.
Moist Gingerbread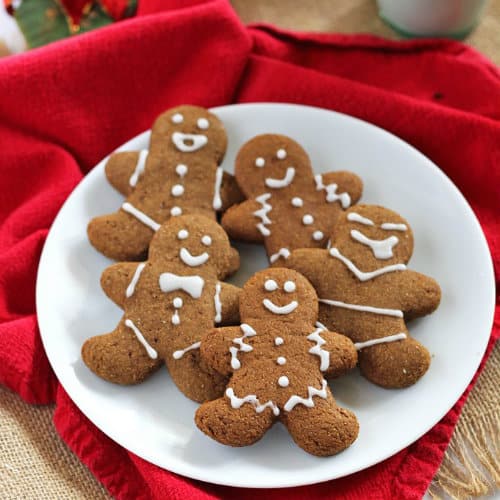 These little guys use made with whole wheat flour, and they are sweetened with coconut sugar and molasses. The recipe uses applesauce as an egg replacement, so these cookies will be nice and moist. The spices are simple and the ginger is the dominant spice. These are great for the person who prefers a moist gingerbread.  
Get the recipe HERE.
Whether you are dunking them in milk, serving them at a party, or leaving them out for St. Nick, we hope that you will find the vegan gingerbread cookies that will make your holiday special. Do you have a recipe for vegan gingerbread cookies that you think should be on this list? Please share it with us in the comments section.