A fantastic side dish for many kinds of meals, especially Indian specialties, what makes this fruit and nut rice pilaf so fruity and nutty is trail mix! Most trail mixes have a nice variety of dried fruits and nuts. As for the rice, you have options. Do you have already cooked rice in the fridge and need to dress it up? Leftover rice from your last Chinese food order (there's always so much of it)? If not, you can use quick-cooking rice or the newest entry into the field of ready-cooked rice that just needs a quick spin in the microwave.
No matter what you choose, this great side is ready in minutes and adds color, texture, and tastiness to any plate. We love this with Super-Quick Aloo Gobi as a complete (and really easy) meal.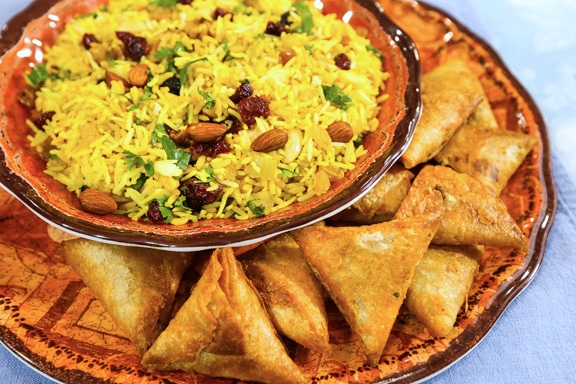 Serves: 4 to 6
Time to table: 5 to 7 minutes
What you need
3 cups cooked rice (precooked, leftover, quick-cooking, or instant microwavable)

1 tablespoon olive oil, nut oil, or vegan butter

¾ to 1 cup trail mix, your favorite variety

Pinch of ground turmeric or ½ teaspoon curry powder

¼ cup finely chopped fresh cilantro and/or scallions

Salt and freshly ground pepper to taste
What to do
1  Heat the rice in whatever way you wish — on the stovetop or in a microwave-safe container. Or just follow directions for instant microwavable rice.
2  Combine the rice with the oil or vegan butter in whatever container you're going to serve it in (or in a pan, if that's how you heated it), followed by the remaining ingredients. Let stand for 2 to 3 minutes, then serve.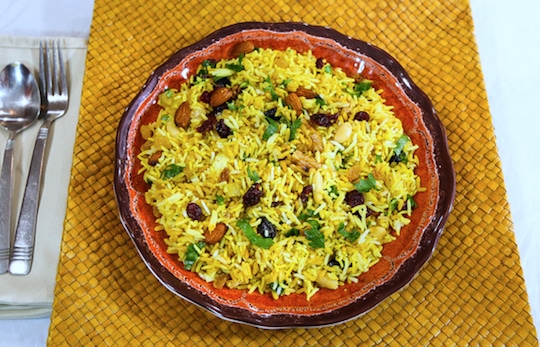 Photos: Evan Atlas