These easy scrambled tofu burritos are excellent as a weekend brunch or breakfast; they also make a nice option for a quick dinner. Serve with a simple potato dish or fresh fruit, and a colorful salad. Photos by Rachael Braun.

Makes 6 burritos
14- to 16-ounce tub soft or firm (but not extra-firm) tofu

1 tablespoon Earth Balance or other vegan buttery spread

1 cup salsa (your favorite variety—try black bean and corn,




cilantro-garlic, chipotle, etc.)

½ teaspoon good-quality curry powder, or to taste

Six 8- to 10- inch soft flour tortillas

1 ½ cups (approximately) vegan cheddar or nacho cheese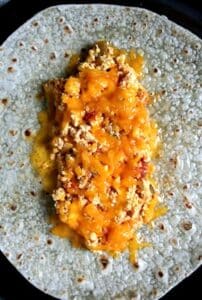 Drain the tofu and cut into ½ inch slices. Blot well between layers of paper towel.
Heat the Earth Balance in a medium skillet. Add the tofu and mash with a potato masher or large fork.
Stir in the salsa and curry powder, then cook over medium heat for 3 to 4 minutes, until well heated through. Turn the heat up and cook a little longer if there is excess liquid in the skillet that needs to evaporate.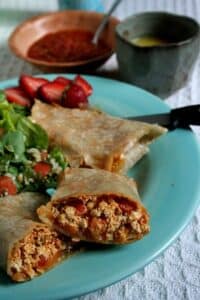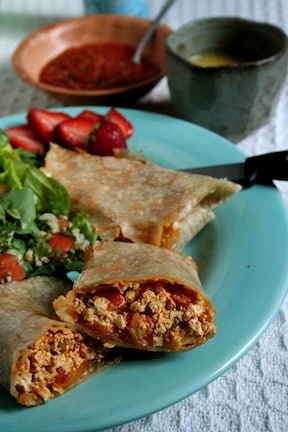 Divide the scrambled tofu mixture among the tortillas, placing it the center of each in a kind of oblong mound, leaving room at each end. Sprinkle some cheese over the tofu (about 3 to 4 tablespoons for each tortilla).
Microwave each for 30 to 40 seconds, or arrange all of them open-faced on a baking sheet, and bake in a preheated 350 degree F. oven until the cheese is melted. Fold two ends over the tofu mixture, then roll up the rest. Repeat with each burrito, then serve at once.
Nutrition Information:
Per serving: 314 calories; 16g fat; 840mg sodium; 34g carbs; 3g fiber; 11g protein