Apples scented with cinnamon — YUM! When I created this pie crust recipe, I imagined an oatmeal cookie crust. Most oatmeal cookies have eggs, butter and sugar. Not this one! Here, I subbed chia seeds and water for eggs; coconut sugar and coconut oil for a super delicious, healthy twist. And, it's vegan! Photos by Tracey Eller.
Serves: 6 
Pie Crust
1 tablespoon milled chia seeds (see Note)
¼ cup water
1 ½ cups organic rolled oats
¾ cup organic spelt flour
½ teaspoon sea salt, such as Celtic Sea Salt®
½ cup + 1 tablespoon extra-virgin coconut oil (melted)
½ cup coconut sugar (see Note)
1 tablespoon vanilla extract
Pie Filling
1 tablespoon milled chia seeds (see Note)
¼ cup water
5 cups peeled and sliced apples
1 tablespoon coconut sugar (see Note)
1 ½ teaspoons cinnamon
Pinch of sea salt, such as Celtic Sea Salt®
Preheat the oven to 375ºF.
Soak the milled chia seeds in water for both the crust and filling, keeping each portion separated.
Lightly oil a 9-inch deep dish pie pan on the bottom and up the sides with 1 tablespoon melted coconut oil.
To make the crust, place the rolled oats in a food processor and grind to a flour. Transfer to a large mixing bowl along with the spelt flour, the rest of the melted coconut oil, coconut sugar, vanilla, sea salt and chia (water) gel, and mix well. Reserve ½ cup of the mixture to use for the crumb topping.
Transfer the rest of the dough to the prepared pie pan and use your fingers to press it out in an even layer over the bottom and up the sides of the pie pan. Poke a few holes in the dough with a fork.
Bake for about 10 minutes, until it loses it shine.
While you bake the pie crust, cook the apples, coconut sugar, cinnamon and salt in a medium-size sauce pan over medium heat. Simmer stirring occasionally for about 5 minutes, until apples soften. Add and stir in the chia and water mixture. Taste and add more cinnamon or coconut sugar, if desired.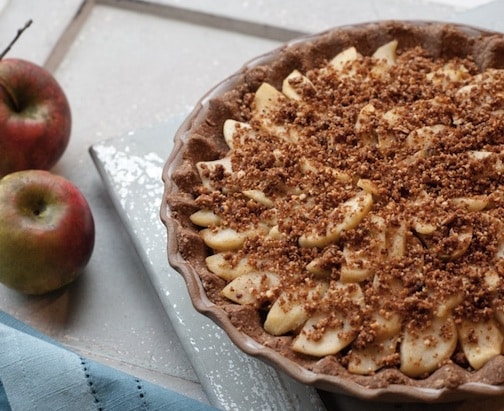 Pour the filling into the crust and crumble the reserved dough over the top.
Bake for 10 minutes, or until the crumbs turn a slightly darker brown. Let the pie cool for at least 30 minutes before serving.
Note: Leslie developed this recipe for Nutiva, and recommends Nutiva Organic Coconut Sugar, Nutiva Organic Extra Virgin Coconut Oil, and Nutiva Organic Milled Chia Seeds.