Maple syrup brushed on the warm cobbler adds color and shine to the other-wise pale topping. And don't save this excellent cobbler for wheat-sensitive people only; everyone will like it. Contributed by Fran Costigan, reprinted by permission from More Great Good Dairy-Free Desserts Naturally.* Photos by Evan Atlas. 
Serves: 6 to 8
Filling:
5 tablespoons maple syrup
1 tablespoon arrowroot
2 teaspoons fresh lemon juice
Dash salt
5 cups apple slices, unpeeled or peeled (about 6 apples or 2 pounds)
½ cup walnuts, chopped, toasted, and cooled
Topping:
1 ½ cups quick-cooking oats (see Note)
2 tablespoons whole cane sugar
¾ teaspoon ground cinnamon
¾ teaspoon baking powder
¼ teaspoon baking soda
Pinch of salt
2 tablespoons neutral vegetable oil
3 tablespoons maple syrup
6 tablespoons nondairy milk
1 teaspoon vanilla extract
Position a rack in the middle of the oven and preheat to 350 degrees. Lightly oil a 9-inch deep-dish pie pan or 2-quart baking dish.
To make the filling, mix the maple syrup and arrowroot in a large bowl until well blended. Add the lemon juice and salt. Add the apples and toss until coated.
To make the topping, combine the oats, sugar, cinnamon, baking powder, baking soda, and salt in a medium bowl, and stir to mix.
Combine the oil with 1 tablespoon of the maple syrup in a small bowl. Add the nondairy milk and vanilla, and mix until well blended. Pour into the oat mixture and mix until a soft dough forms.
Spoon the topping over the fruit and bake for 25 to 35 minutes, until the topping is firm and the fruit is bubbling. Remove from the oven and brush with the remaining 2 tablespoons maple syrup. Cool about 5 minutes and serve warm from the baking dish.
Note: As an alternative to quick-cooking oats, you can start with rolled oats and grind them down to a crumb texture in a food processor; or continue grinding down to a more flour-like texture if you'd like a smoother topping.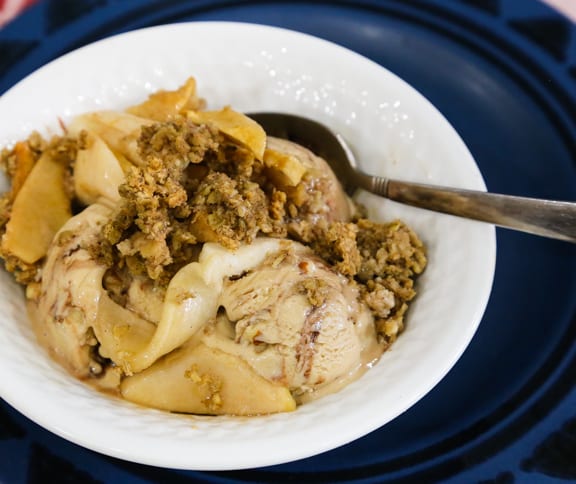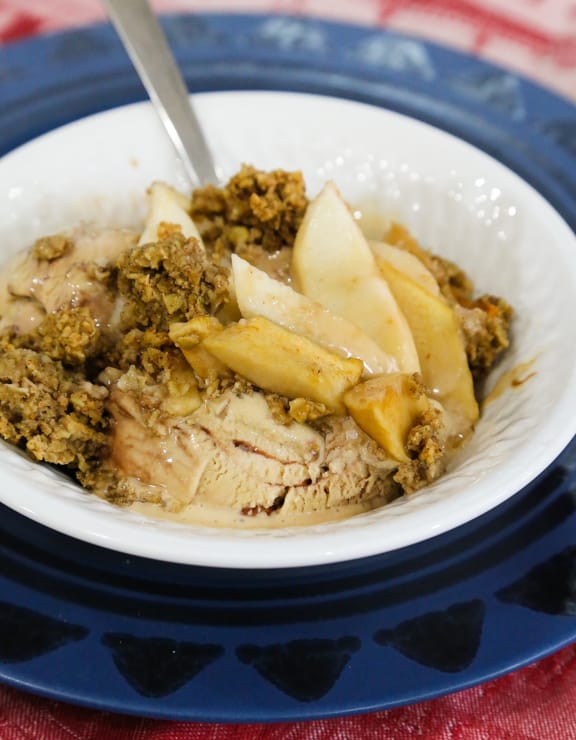 *This post contains affiliate links. If the product is purchased by linking through this review, VegKitchen receives a modest commission, which helps maintain our site and helps it to continue growing!