Once you have the cooked quinoa on hand, these delectable Asian-flavored wraps come together very quickly. Photos by Rachael Braun. Recipe contributed by Wendy Polisi, reprinted from Cooking Quinoa. 
Makes: 4 wraps
2 cups

cooked quinoa

3 tablespoons vegan mayonnaise
2 tablespoons rice vinegar
1 tablespoon hot sauce of your choice (such as Sriracha), more or less to taste
Reduced-sodium soy sauce or tamari to taste
1 scallion, thinly sliced
4 large (10-inch) wraps, preferably whole grain
3 cups or so arugula, baby spinach, or mixed baby greens
1 medium ripe avocado, peeled and diced
1 large carrot, grated or finely diced (or 1 cup pregrated carrot)
Combine the cooked quinoa, vegan mayonnaise, rice vinegar, hot sauce, and scallions in a mixing bowl and stir together well. Drizzle in a little soy sauce, just enough to add subtle flavor.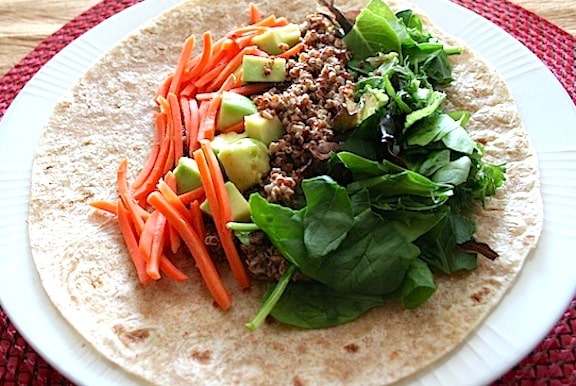 Dollop ½ cup of the quinoa mixture onto center of the wrap and top with a good handful of the greens, a quarter of the avocado, and a quarter of the carrots. Roll and cut in half.
Repeat with remaining wraps. Pass around additional soy sauce and/or hot sauce for individual servings.