Here at Vegan Food Hacks, we're very fond of wraps. There's something about everyday healthy ingredients enclosed in a soft wrapper that makes them yummier and more appealing.Case in point, these avocado black bean wraps.  And for those who find salad a big yawner, here's a news flash — many wraps are really salads in disguise, but we wont tell anyone.Just a few ingredients to a tasty and healthy lunch or light dinner.
For dinner, serve with microwaved sweet potatoes for a nearly instant dinner.
Serves: 2
Time to table: 10 minutes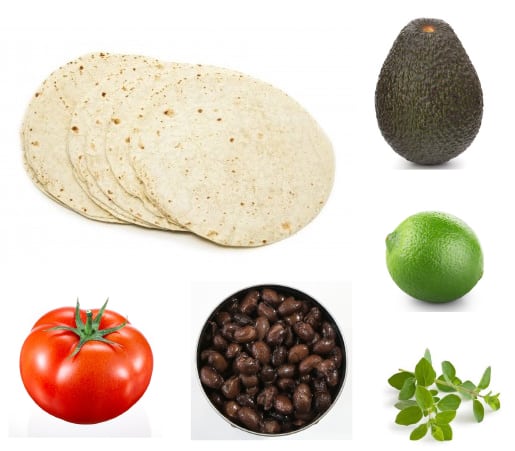 What you'll need
1 medium ripe avocado

1 lime

Wraps or large flour tortillas, at least 10-inch

1 medium tomato

15-ounce can black beans

Fresh herbs as desired (try fresh oregano or cilantro, or see note
Note: You can substitute sprouts, baby greens, arugula, lettuce, or spinach for the fresh herbs.
What to do
1  Mash the avocado with juice of ½ to 1 whole lime, to taste
2  Divide the mashed avocado between two wraps, spreading it down the center of each. Divide the tomato (diced) between each wrap, followed by about ½ cup of rinsed and drained black beans. Finish with sprouts or herbs as you'd like.
3  Fold one side of the wrap over the other. Or, for more portable wraps, fold two ends partway over the ingredients and roll up snugly.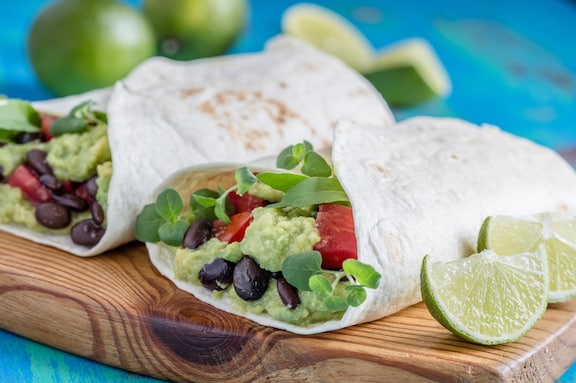 See more of Vegan Food Hacks' Shameless Shortcut Recipes.