With so many choices in cooking oil, its hard to know if you're using the right thing. Most people are unaware of the dangers that come from conventional and over-processed vegetable oil. Even good olive oil isn't suitable for all cooking purposes – especially high heat cooking. Chosen Foods avocado oil is the perfect, healthy, all-purpose cooking oil, but is especially suited for higher temperatures.
All cooking oils have a smoke point. That is, the temperature at which the oil begins to burn. Burnt oil doesn't taste, or smell good, so it should be avoided.  Many people don't know that when an oil heats past its smoke point, the fatty acid profile has degraded, producing toxins, free-radicals and even trans fats. When cooking at higher temperatures, you should always choose oil that has a high smoke point and is low in poly-unsaturated fats (the single chain poly bond is extremely susceptible to heat and begins to break down at ANY exposure to heat – regardless of the smoke point).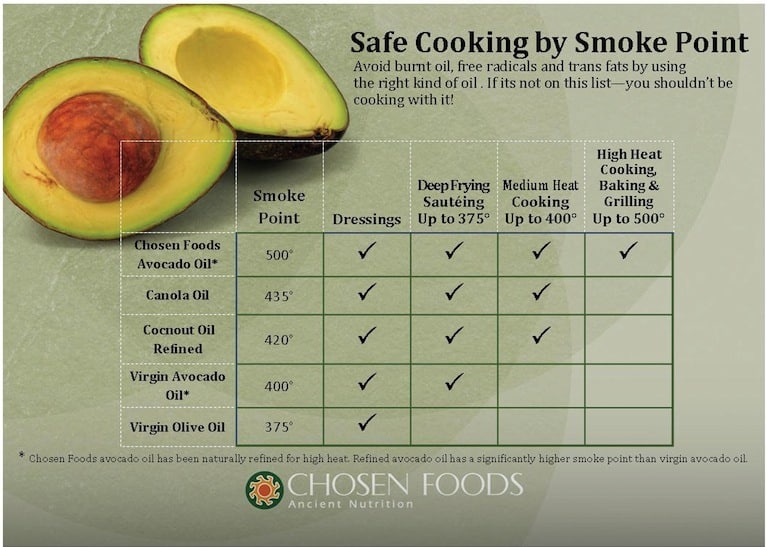 Virgin oils tend to have the lowest smoke points. The more refined an oil, the higher the smoke point. Virgin unadulterated (hasn't already been exposed to air, heat or light) olive oil is high in monounsaturated fat making it good for cooking with, but its smoke point lies around 350-375°F. Olive oil should not be used for deep frying, stir-frying, searing, barbecuing, or baking anything at higher temperatures then this. Canola oil has a higher smoke point (around 400°F), but due to its chemical refinement process and genetically modified origin, should generally be avoided. Some oils advertised as suitable for high heat, should NEVER be heated. These include grapeseed, sunflower and safflower oil. Their high polyunsaturated fat content makes them toxic when even slightly heated.
Chosen Foods Avocado Oil is expeller-pressed and naturally refined to be the best oil for high heat cooking. It has a similar, heart-healthy, fat profile to olive oil (high in monounsaturated fat), is full of antioxidants and vitamin e and has a smoke point of over 500°F. Our oil is mechanically refined the old fashioned way, without the use of chemicals, solvents or caustic soda and with strict temperature control. Refined avocado oil has a very mild flavor that compliments other foods without overwhelming them. It is highly viscous, with a smooth, silky texture; a little goes a long way. Chosen Foods avocado oil can safely be used for all high heat cooking applications, but it can also be used as a replacement for vegetable oil in salad dressing and baked good, mixed with basil and garlic for a wonderful bread dip or to gently finish salads or steamed veggies.
Extra virgin avocado oil is commonly advertised as having a high smoke point. While beautiful in color and perfect for drizzling, virgin avocado oil has a smoke point similar to olive oil and should not be used for high heat cooking purposes.
Follow this link to purchase Chosen Foods naturally refined avocado oil.