A twist on a classic Italian meal features baked eggplant slices stacked with cashew ricotta, balsamic infused baby spinach and your favorite marinara sauce. Just add a colorful salad and fresh whole grain bread (or a simple pasta or grain dish) for a fantastic meal. Make sure to start soaking the cashews and pine nuts for the "ricotta" well ahead of time. Contributed by Jennifer Strohmeyer, from Virtually Vegan Mama.
Serves: 6
2 medium eggplants, sliced lengthwise
into ½-inch slices (18 slices)
28-ounce jar good-quality marinara sauce, your favorite flavor
1 bag of baby spinach, rinsed
1 tablespoon balsamic vinegar
1 tablespoon olive oil or vegetable stock
Dried parsley flakes
Dried basil flakes
Sea salt (optional) and freshly ground black pepper
Cashew Ricotta:
¾ cup raw cashews, soaked in water 4 hours
¼ cup pine nuts, soaked in water for 4 hours
2 tablespoon nutritional yeast
1 clove garlic
¼ cup fresh lemon juice
½ tablespoon mellow white miso
½ teaspoon onion powder
Non-dairy milk, for thinning
Sea salt (optional) and freshly ground black pepper 
For the Eggplant:
Preheat oven to 425 degrees F.
Place eggplant slices on non-stick baking tray, baking mat or parchment lined tray.
Lightly brush both sides of slices with olive oil. Alternately, you can brush each slice with vegetable stock. Sprinkle both sides of slices lightly with dried parsley, basil and salt (if using) and black pepper.
Bake for 20 to 25 minutes, flipping once halfway through, until golden brown on both sides. Remove from oven and cool slightly. Decrease oven to 375 degrees F.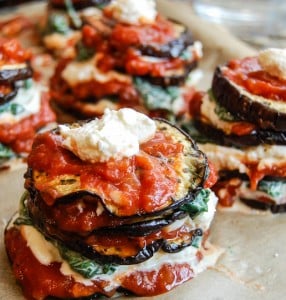 For the Cashew Ricotta:
Drain soaked cashews and pine nuts. In a food processor or high-powered blender, add remaining ingredients and process until smooth and creamy. Use some non-dairy milk to thin it out if needed. You want a ricotta-like consistency. If it is too thick, when you bake the stacks the cashew ricotta will harden. 
For Spinach Layer:
Heat a medium non-stick skillet over medium-high heat. Add spinach and balsamic vinegar. Toss until wilted and most of the water has evaporated, 2-3 minutes. Season with sea salt (optional) and fresh black pepper. Set aside.
Lightly spray a non-stick baking tray with cooking spray, or line a tray with a non-stick baking mat or parchment paper. Make your stacks. Begin with eggplant on bottom, ladle sauce on top, baby spinach and then cashew ricotta. Repeat to make two layers ending with an eggplant slice, tomato sauce and a dollop of cashew ricotta (makes 6 stacks).
Bake in a 375-degree F. oven for 20 to 30 minutes or until well heated through.