This easy baked polenta casserole uses prepared polenta (the kind that comes in a tube) layered with zucchini and spinach. Smothered in marinara sauce and topped with melty vegan cheese, it's almost so embarrassingly easy to make, but such a crowd-pleaser. Use a really flavorful prepared marinara—roasted tomato, garlic, mushroom, or chunky vegetable. Adapted from Vegan Express by Nava Atlas. Serves: 6
2 to 3 cups good-quality marinara sauce (depending on how saucy you like your dishes!)

18-ounce tube polenta, cut into ½-inch-thick slices

2 medium zucchinis, sliced ¼-inch thick

6 to 8 ounces baby spinach, steamed until just wilted

1 ½ cups grated mozzarella-style vegan cheese
(or use a spicy vegan cheese like pepperjack)

Sliced fresh basil leaves for garnish, optional
1  Preheat the oven to 425º F.
2  Spread the bottom of a shallow 2-quart baking dish with a little of the marinara sauce, then arrange the polenta slices in a single layer.
3  Arrange the zucchini slices over the polenta, followed by the spinach.
4  Pour the remaining sauce evenly over the surface, then sprinkle evenly with the cheese.
5  Cover and bake for 10 minutes, then uncover and bake for 5 to 10 minutes longer, or until the cheese is melted and bubbly.
6  Let stand for 5 minutes or so, then serve. Garnish each serving with fresh basil if desired.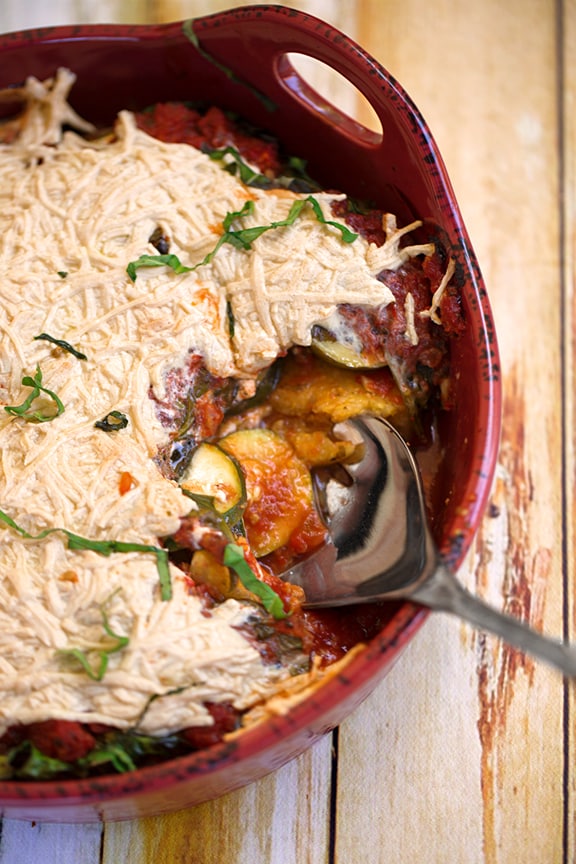 Nutrition Information:
Per serving: 257 calories; 14g fat; 920mg sodium; 26g carbs; 6g fiber; 6g protein
Photos: Hannah Kaminsky