Banana ice cream is amazing. It's hard to believe that this frozen treat is based almost entirely on banana. In this vegan banana ice cream recipe, peanut butter and a touch of chocolate add up to the classic combo of flavors you enjoy just as much in other desserts. Enjoy this in a bowl or in a cone. It's a treat you won't mind serving your kids. Just make sure they leave some for you!
To make this and other banana ice cream recipes, you don't need an ice cream machine; this is best made in a food processor. Photos by Hannah Kaminsky.
4 medium ripe bananas

¼ to ⅓ cup smooth natural peanut butter

¼ cup vegan chocolate chips or bar chocolate squares

2 tablespoons or so plain or vanilla nondairy milk
For serving, optional
Roasted peanut halves

Extra sliced banana
Extra chocolate chips or chopped bar chocolate squares
1  Peel bananas and cut into approximately ½-inch slices. Place in an airtight container and freeze for several hours, until frozen solid, or preferably overnight.
2  In a food processor (see note), combine the frozen bananas with the peanut butter and 2 tablespoons of the nondairy milk or coconut creamer.
3  Process until the bananas are broken down to bits, then stop the machine to scrape down.
4  Add the chocolate and process again until the mixture is completely smooth and creamy, adding a bit more of the nondairy milk if the mixture needs it.
5  Scrape the banana mixture into a container and refreeze for an hour or two, or until firm to the touch.
6  Scoop into individual bowls or cones and serve with any of the optional serving items. Eat at once!
Notes
This can be done in a blender, but a high-speed blended will liquify the mixture too much; a regular blender is better, but it's challenging to get the mixture to blend evenly, or to get it out from the bottom of the container.

If you freeze for too long, this gets to be pretty solid and hard to scoop. If that happens, break into chunks and run through the processor until creamy again.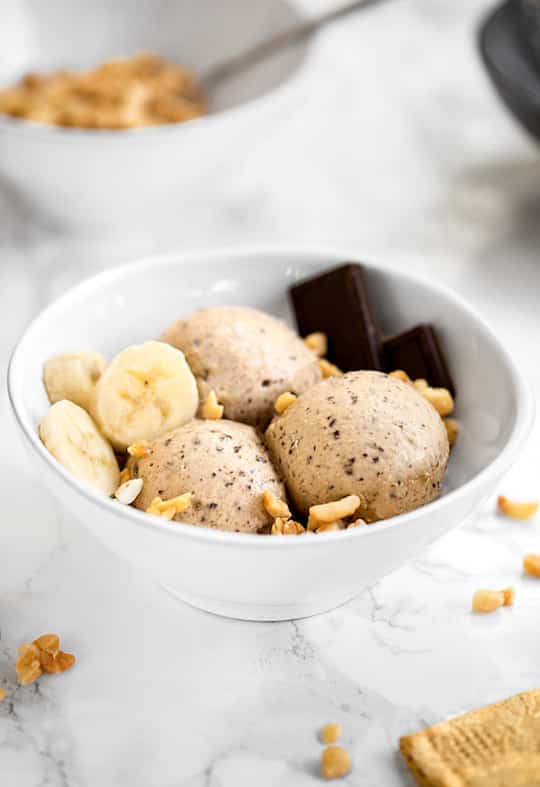 Learn how to make nonvegan food vegan, and healthy food easier or even healthier in Hack This!