When this delectable BBQ tempeh salad is the centerpiece of a meal, the notion of salad as rabbit food is turned on its head. As a light meal, it can stand on its own. Or, if you want to add a little something yummy on the side, organic sweet potato fries (readymade, if you're as much into meal hacking as we are. If you're a bit more ambitious, of course you can make your own fresh sweet potato fries. Or baked sweet potatoes just as they are — it's all good.
There's something so nice about the contrast of BBQ flavors (provided by the tempeh cooked in a good-quality barbecue sauce) and a creamy dressing. Vegan ranch isn't always easy to find, so you can make your own; use vegan mayo and a little lemon juice; or the alternatives suggested, French or a tahini-based dressing, both of which are easy find in natural vegan versions. If you'd like a more formal recipe for the salad, see BBQ Tempeh Salad with Vegan Ranch Dressing.
One final thought — for a nice midsummer meal, serve with fresh corn on the cob in place of sweet potato fries.
Serves: 2 to 3
Time to table: 25 minutes or less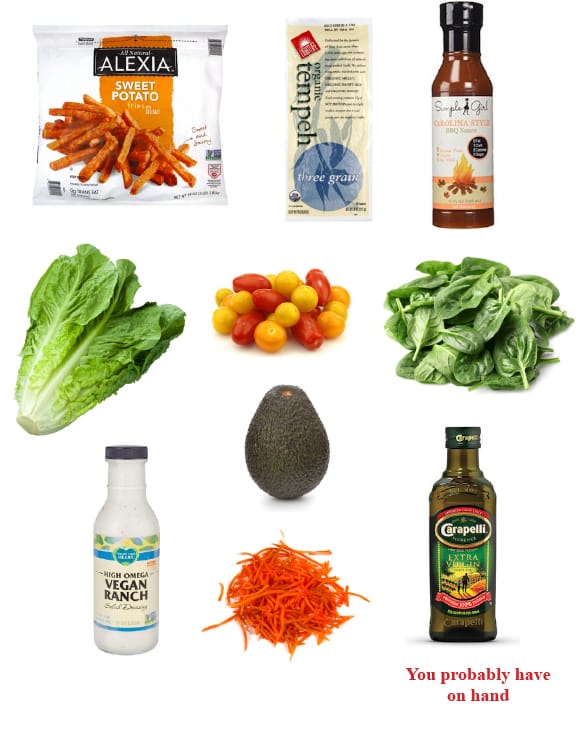 What you need
16-ounce bag frozen organic sweet potato fries (or see note)


8-ounce package tempeh (any variety)

1 bottle good-quality natural barbecue sauce

1 medium ripe avocado

1 head romaine lettuce

5-to 6-ounce package baby spinach (or a couple of handfuls if purchased by weight)

1 pint cherry or grape tomatoes (you'll use some for the next grouping, too)

8-ounce package grated carrots

Vegan ranch dressing (alternatively, French or a tahini-based dressing)
Note: As mentioned earlier, you can make fresh sweet potato fries if you have more time, or substitute fresh corn on the cob in season.
What to do
1  Prepare the sweet potato fries according to package directions.
2  Cut the tempeh into crouton-like cubes (about ¾ inch). Heat enough olive oil to coat a skillet and sauté the tempeh over medium-high heat for about 5 minutes.
3  Add about ½ BBQ sauce to the tempeh and sauté until absorbed and starting to brown here and there, about 10 minutes. Once done, add just a bit more BBQ sauce to coat nicely and remove from the heat.
4  Put together a salad of diced avocado, sliced romaine, a little baby spinach, cherry tomatoes, and carrots. Proportions don't matter but if you want a more formal recipe, go to BBQ Tempeh Salad. You'll likely have some carrots and tomatoes to spare for another meal. Dress as desired with your dressing of choice, or pass it around.
5  Serve individual portions of salad topped with the warm tempeh croutons and serve the sweet potato fries (or corn if using instead) as a companion dish.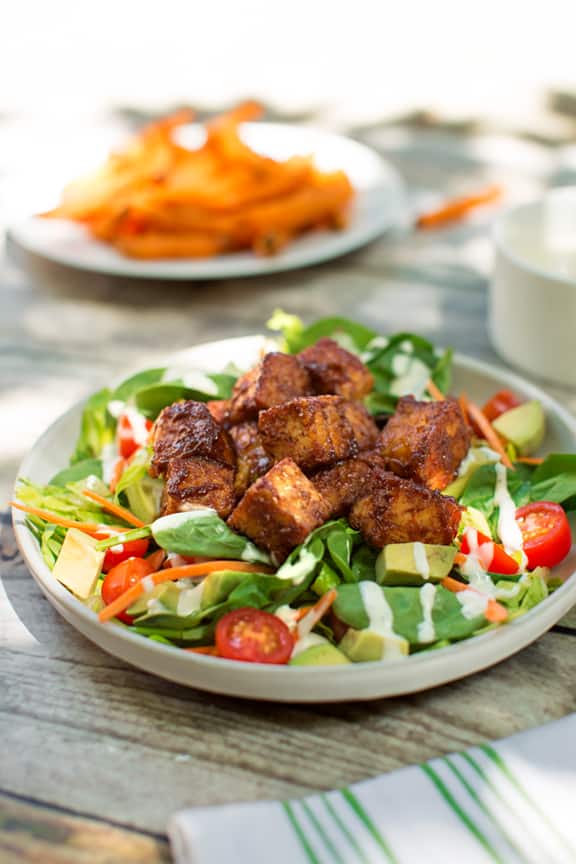 Photos: Top and bottom, Hannah Kaminsky