The synergy between hearty BBQ tempeh croutons and crisp salad veggies dressed in creamy vegan ranch dressing is most appealing. First presented as one of our Vegan Dinner Hacks, paired with sweet potato fries, this is a more formal recipe. But not so formal that you have to follow this recipe precisely — far from it. The barbecue-flavored tempeh croutons make any salad hearty and satisfying; you can vary the kinds of salad veggies here as you'd like.
Makes: 4 or more servings
8-ounce package tempeh (any variety)

1 tablespoon olive oil

¾ cup barbecue sauce

1 medium ripe avocado, peeled and diced

1 small head romaine lettuce, torn or thinly sliced

2 or 3 big handfuls of baby spinach

1 cup halved cherry or grape tomatoes

1 cup pre-grated or thinly sliced carrots

Vegan Ranch or other creamy vegan dressing, homemade or bottled

Cut the tempeh into ¾-inch or so cubes.
Heat the olive oil in a medium skillet and sauté over medium heat, stirring often, until beginning to get golden brown.
Add ½ cup of the barbecue sauce and sauté, covered (otherwise it might splatter) until the sauce is reduced and starting to brown here and there to coat the tempeh, about 8 minutes. Stir in the remaining sauce and continue to cook for another minute or two. Remove from the heat.
In a serving bowl avocado, romaine, baby spinach, tomatoes, and carrots.
Dress the salad with vegan ranch or other dressing as desired. Pass around the BBQ tempeh croutons to top individual portions of the salad.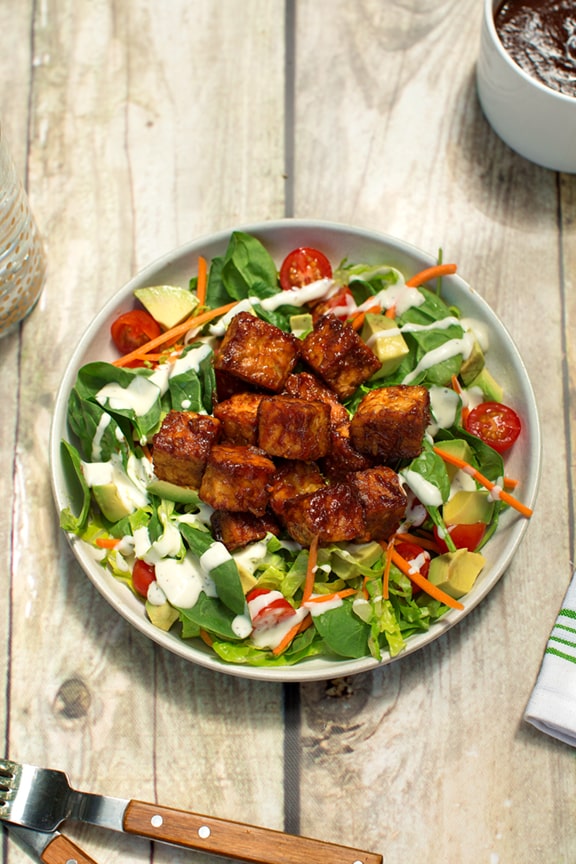 Photos: Hannah Kaminsky