Vegan nachos grandes can be a fantastic party snack, appetizer, or emergency dinner. They might also convince your skeptical friends to take a walk on the veg side. You can use burger crumbles — or crumbled veggie burgers to make these "beefy" and very easy nachos.
Nachos are usually made with beans; nothing wrong with that — this "meaty" version is just a nice change of pace. If your crowd likes the really beefy meat subs, try something like Beyond Beef's burger crumbles. But, as noted below, you can use beans, and these vegan nachos grandes will be just as tasty. 
I'm not one for realistic meat substitutes myself, but for those who are convinced they couldn't give up meat, they can be a lifesaver — for the planet, the animals, and the person themselves. Beyond Beef is unique in that its main ingredient is pea protein, and unlike many meat subs it's soy- and gluten-free.
But if you prefer a less meaty flavor and just like the hearty texture, crumble up your favorite kind of veggie burger. We like Garden Burger's original and Amy's California Burger for these. You can find a number of soy- and gluten-free vegan burgers, if that's your preference.
Though these ingredients are enough to make a hefty platter of nachos, you can also scale it down to make a single serving on a regular-sized plate. Just layer a bit less, in the same way — no need for any sort of obsessive measuring.
To make a meal, serve with a simple salad and sliced oranges.
Serves: 4 as a meal; more as a snack
Time to table: 15 to 20 minutes
8-ounce bag frozen corn kernels

1 package vegan burger crumbles or 4-pack veggie burgers

Whole-grain tortilla chips

8-ounce package nondairy cheese shreds (see Note)

1 or 2 fresh jalapeños, optional

1 ripe avocado

2 medium ripe tomatoes or 1 pint grape tomatoes

8-ounce jar salsa (your favorite variety)
Notes
If you don't care for meat substitutes, use a can of drained and rinsed black or pinto beans instead.
For the vegan cheese, Daiya cheddar or pepper jack shreds go well with this. You'll only be using half of the package, as well as half of the 8-ounce bag of frozen corn for this preparation.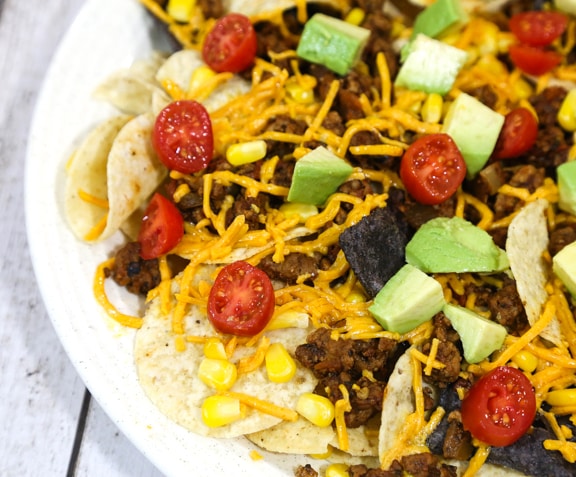 What to do
1  Thaw out about a cup's worth of the corn kernels by running some hot water from the tap over them.
2  Whether using veggie burgers or burger crumbles, make sure they're mostly thawed. Crumble up veggie burgers with your hands. Either way, sauté in a little oil until lightly browned.
3  Spread tortilla chips on a large platter. Sprinkle with the corn, burger crumbles, about half of the package of nondairy cheese shreds, and sliced jalapeños (if using) to your taste. If hot peppers aren't your thing, skip them.

4  Microwave the nachos until the cheese is melty  (45 seconds or so), or if you prefer the oven, bake for 10 minutes at 400º F, or until the cheese is nicely melted.
5  Top the nachos with diced avocado and tomatoes (diced if larger tomatoes; halved if cherry or grape tomatoes.
6  Have everyone dish out some of the nachos for themselves onto individual plates if you're using this as a meal; or just dig in if eating as a party snack or appetizer. Put the salsa in a small bowl to keep nearby or pass around.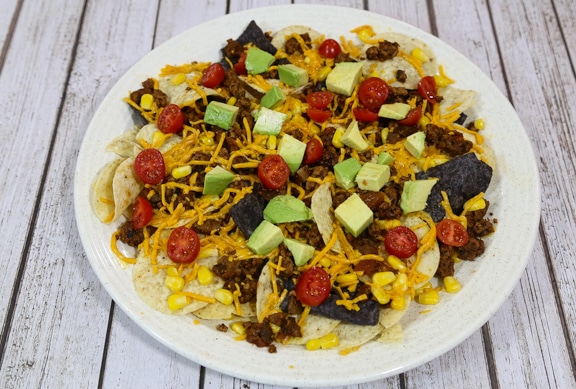 Enjoy more of our vegan food hacks.