Once the weather starts warming up, I start to crave gazpacho, the classic Spanish cold soup that's tomato-y, spicy, and totally uncooked. Though it's not that complicated to make, there's an awful lot of very fine chopping, something I don't always feel like doing.
The brilliant secret to this 4-ingredient gazpacho is to use fresh salsa! Not the typical kind that comes in jars, but variety that's in the refrigerated section of supermarket produce departments. The tiny bits of tomatoes, garlic, chile peppers, and herbs are uncannily close to the ingredients in gazpacho.
The kind in my supermarket is made locally and even has cucumber and bell pepper in it — just like any good gazpacho does — all in teeny tiny pieces, just as they should be for this preparation. Combined with spicy tomato juice, your instant gazpacho will go well with veggie burgers, wraps, sandwiches, grain dishes, and more. Fresh salsa, combined with spicy tomato juice, gives this instant gazpacho all the flavor it needs.
If you've got company coming and you need a first course in a hurry, try serve this on its own with crispy croutons for garnish.
Serves: 4 to 6
Time to table: 10 minutes (unless you'd like to chill it for a while)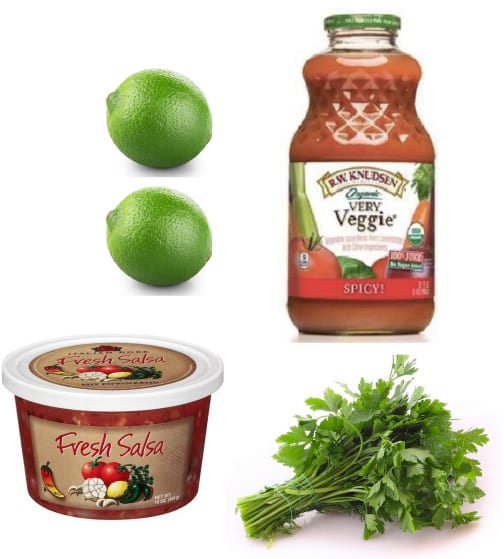 What you'll need
16-ounce container fresh (not jarred) salsa

Quart or liter bottle spicy tomato juice

2 limes

1 bunch fresh parsley or cilantro
What to do
1  Combine the salsa and 3 cups of the spicy tomato juice in a serving container.
2  Add the juice of 1 lime; cut the other into wedges or slices for garnish.
3  Add as much chopped fresh parsley or cilantro as you'd like and stir together. If too dense, add a little more tomato juice.
4  Serve right away or chill for a few hours in the refrigerator. Garnish each bowl with a wedge or slice of lime.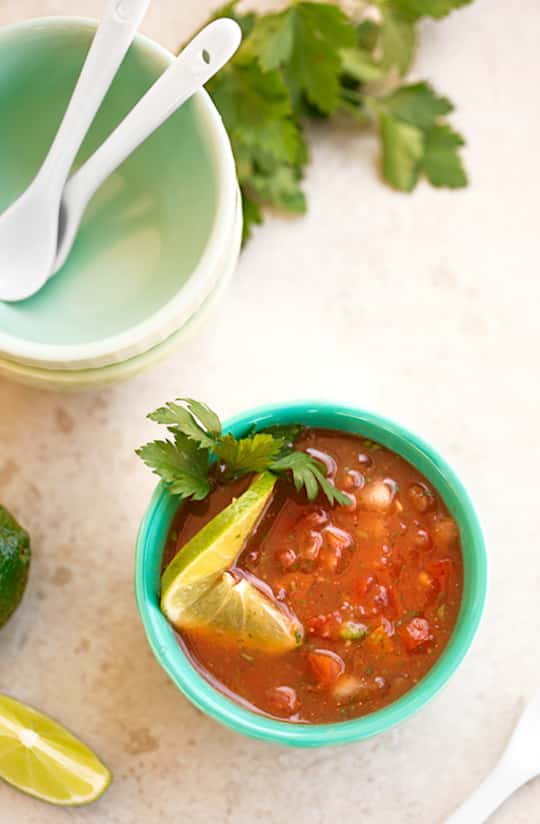 Here are more of Vegan Food Hacks' Shameless Shortcut Recipes.