Cradled in a chocolate crust and blanketed by a ganache topping, the silky peanut butter mousse at the center is creamy and luscious. The hardest part of this pie is making the crust (if indeed you're making yours from scratch), so once it's baked and ready to go, you're more than halfway done! Recipe adapted from Easy as Vegan Pie by Hannah Kaminsky. © 2013, Skyhorse Publishing, reprinted by permission. Photos by Hannah Kaminsky.
Makes 8 to 12 Servings
Your favorite pie crust, homemade or prepared, baked and cooled
No-Bake Peanut Butter Mousse:
8 ounces (about ¾ 12-ounce aseptic package) extra-firm silken tofu
1 cup creamy peanut butter
⅓ cup light agave nectar
1 teaspoons vanilla extract
¼ teaspoon salt
Chocolate Ganache:
8 ounces semi-sweet chocolate, finely chopped
(or 1 ¼ cups chocolate chips)
⅔ cup plain non-dairy milk
Lightly drain the tofu of any excess liquid before tossing it into the bowl of your food processor along with all of the remaining ingredients for the peanut butter mousse. Blend until completely pureed, pausing to scrape down the sides of the bowl as needed. When the mousse is homogeneous, perfectly smooth, and lusciously creamy, transfer it into your prepared crust. Smooth out the top with a spatula and set aside.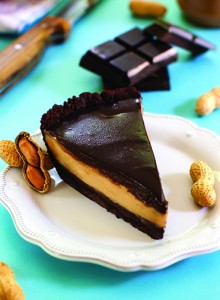 Combine the chocolate and non-dairy milk in a microwave-safe dish and heat for 60 seconds. Stir thoroughly until the chocolate is fully melted. Continue heating and stirring at intervals of 30 seconds as needed, until silky. Pour the ganache all over the top of the mousse, easing it into all the gaps and edges with your spatula if needed. Tap very gently on the counter a few times to knock out any bubbles.
Chill thoroughly for the ganache to set and yield cleaner slices; at least 3 hours. Okay, so maybe I was wrong—the hardest part will probably be waiting to dive in!