Buckwheat groats, or kasha, lend an invigorating texture and distinctive flavor to this enticing grain dish. Featuring colorful and crunchy veggies, think of this as a more colorful and contemporary version of kasha varnishkes. It's a nice choice for a main dish for vegans at the Jewish New Year table, and a side dish for everyone else. Photos by Evan Atlas.
Buckwheat Groats (Kasha) with Fine Noodles and Vegetables
Cuisine:
Vegan / Jewish Holidays / Healthy
Prep time:
Cook time:
Total time:
Buckwheat groats, or kasha, lend an invigorating texture and distinctive flavor to this enticing grain dish.
Ingredients
2 tablespoons extra-virgin olive oil
¾ cup buckwheat groats (kasha)
1½ cups vegetable broth or water with 1 vegetable bouillon cube
2 ounces fine noodles, broken in half, then in half again (see note)
2 tablespoons olive oil
1 medium leek, white and palest green parts only, chopped and well-rinsed
1 medium red bell pepper, cut into narrow 2-inch-long strips
½ medium jicama or white turnip, peeled and cut into ½-inch dice
1 cup firmly packed finely shredded green cabbage
¼ cup finely chopped fresh parsley
Juice of ½ lemon (about 2 tablespoons)
2 teaspoons poppy seeds, optional
Salt and freshly ground pepper to taste
Instructions
Heat half of the oil in a large skillet. Add the groats and stir quickly to coat them with the oil. Toast over medium heat, stirring frequently, until they turn darker and aromatic. Pour the broth over the groats and bring to a simmer.
Simmer gently until the water is absorbed, about 15 to 25 minutes, depending on the grind of the groats.
Cook the noodles separately until just al dente, then immediately rinse with cool water.
Heat the remaining oil in a large skillet or stir-fry pan. Add the leeks and sauté over medium-low heat for 5 minutes, or until limp. Add the bell pepper, jicama or turnip, and cabbage. Turn up the heat to medium-high and stir-fry until tender-crisp.
Add the cooked groats and vermicelli along with the remaining ingredients and stir together gently. Cook over low heat, stirring frequently, for 3 to 4 minutes, until everything is piping hot. If the mixture seems dry, add just a bit more broth or water. Serve at once.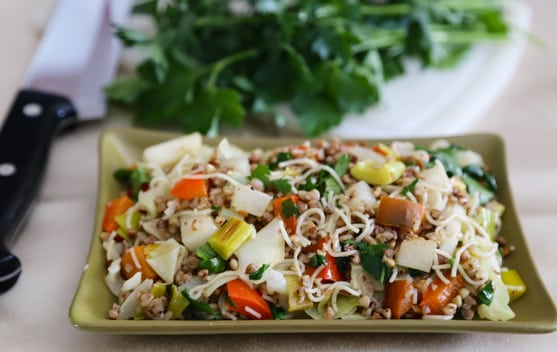 Note: Use thin spaghetti, vermicelli, or angel hair. Or, use soba (buckwheat noodles), which, like buckwheat groats, are completely gluten-free.