Here's a tasty vegan dinner featuring shortcut butternut squash soup and simple hummus and avocado wraps that make a perfect companion. No need to follow exact recipes, just a few easy steps and a delicious meal is yours in 20 minutes or less!
Smooth, mellow butternut squash soup has to be among the top comfort soups on the planet. I don't mind making fresh butternut squash soup from scratch for special occasions like Thanksgiving, but when the craving hits at 6 o'clock pm or later on a weekday, a soothing bowlful seems out of reach. Or is it? The good news is that butternut squash soup (organic and vegan!) comes in 32-ounce containers — a convenient, instant soup starter.
By itself, you might find prepared butternut squash soup a bit on the bland side, but a few tweaks — spinach, peas, and some seasonings — amp it up nicely. For a full dinner, a simple hummus and avocado wrap makes a perfect companion to the soup. It's your sandwich and salad all in one —filling, yet not bread-y, and altogether yummy.
Serves: 3
Time to table: 15 to 20 minutes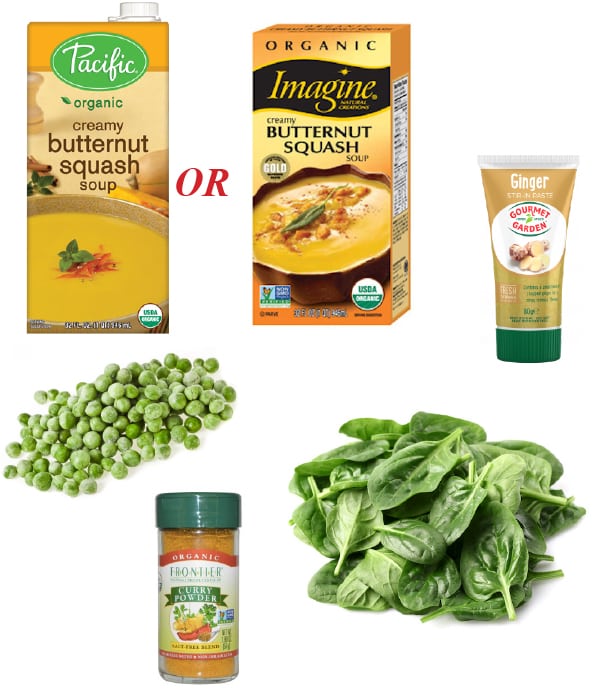 What you need for the soup
Pacific or Imagine butternut squash soup (32 ounce container)

Frozen peas (8-ounce bag, or half of a 16-ounce bag),

Fresh baby spinach (5-ounce container)

Squeezable ginger (or fresh, if you're less lazy)

Curry powder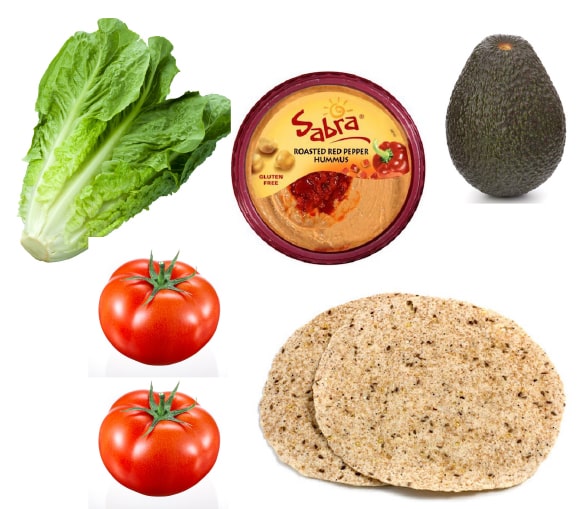 What you need for the wraps

All-natural wraps or large tortillas, preferably whole-grain

Hummus, any variety (we like roasted red pepper with these)

Avocado - 1 medium

Tomatoes - 2 medium

Romaine lettuce - 1 head

Optional
For a spicier soup, pass around sriracha or other hot seasoning of your choice.
What to do
1  Make the wraps first. Lay out a wrapper; spread some hummus over the surface, and arrange some shredded romaine and a few slices of tomato and avocado over it. Grind some pepper over the veggies if you'd like. Fold two ends over, then roll up snugly. Cut the wrap in half crosswise. Repeat with the second wrap.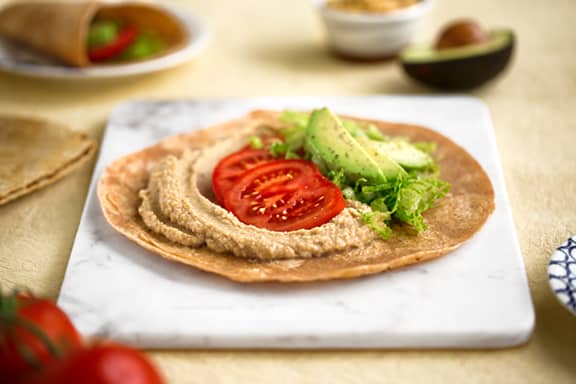 2  For the soup, pour the contents of the carton of butternut squash soup into a small soup pot along with the peas. Heat to a rapid simmer and cook for just a couple of minutes, until the peas are done.
3  Add all of the spinach to the soup pot and cover (do so in batches if too crowded); cook until just wilted. Season with ginger and curry to your taste, plus some salt and pepper if you'd like.
4  Serve the soup and wraps together and enjoy thoroughly!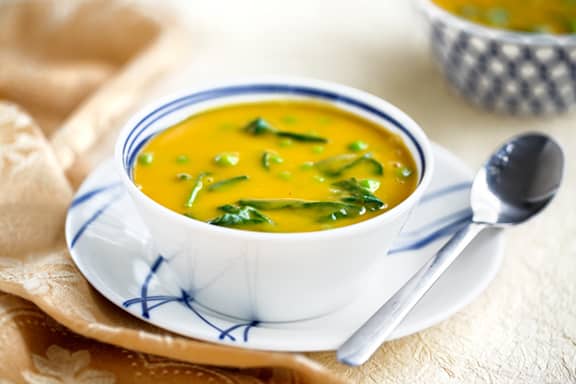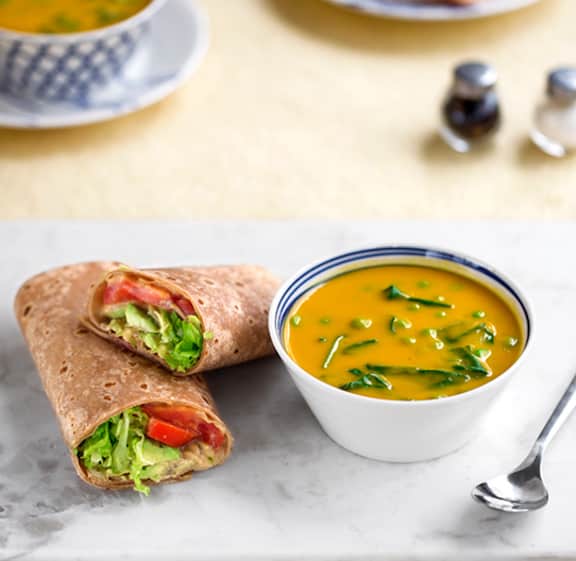 All photos by Hannah Kaminsky.