Carrots and orange juice concentrate pair up in these moist vegan carrot muffins, providing a dose of vitamins A and C, as well as an enticing golden color. Make them in the evening; enjoy a warm muffin for your evening snack, then the next day for an on-the-go breakfast. Or, pack a couple in your or your kids' lunch box with fresh fruit for a change of pace from a sandwich. Photos by Hannah Kaminsky of Bittersweet Blog.

Yield: 1 dozen
1 3/4 cups whole wheat pastry or spelt flour
1/4 cup wheat germ or ground flaxseeds, or half of each
1/4 cup natural granulated sugar
2 teaspoons baking powder
1/2 teaspoon baking soda
1 teaspoon cinnamon
1/2 teaspoon ground ginger
1/2 cup applesauce
1/2 cup orange juice, preferably fresh
2 tablespoons safflower or other neutral oil
1 1/2 cup firmly packed finely grated carrot
3/4 cup raisins or dried cranberries (or substitute other chopped dried fruit)
1/2 cup finely chopped walnuts
Rolled oats for topping, optional
Preheat the oven to 350 degrees F.
Combine the first 7 (dry) ingredients in a mixing bowl and stir together.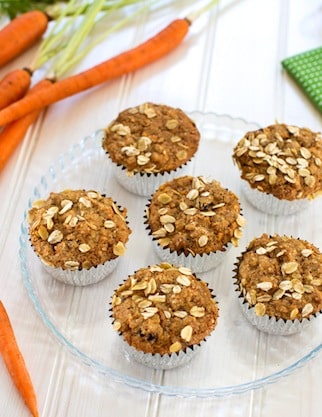 Make a well in the center of the dry ingredients and pour in the applesauce, juice, and oil. Stir until completely mixed. If the batter is too dry, add a small amount of orange juice to loosen it, but let it remain a fairly stiff batter. Stir in the carrots, dried fruit, and walnuts.
Divide the batter among 12 foil-lined muffin tins. Sprinkle with oats, if using. Bake for 20 to 25 minutes, or until a knife inserted into the center tests clean.
Transfer muffins to a plate or rack when cool enough to handle.