Cashew butter saauce is one of the most luscious, versatile sauces in my repertoire—it tastes great on sweet potatoes, grains, vegetables, and noodles. Adapted from Vegan Express. Photo by Susan Voisin, Fatfreevegan.com.
Makes about 2 cups
2 teaspoons olive oil

½ medium red, orange, or yellow bell pepper, finely diced

2 to 3 scallions, minced

1 cup finely diced tomato

1 tablespoon unbleached white flour

1 cup vegetable stock or water

½ cup cashew butter

½ teaspoon good-quality curry powder

½ teaspoon minced fresh or jarred ginger, optional

Salt and freshly ground pepper to taste
Heat the oil in a saucepan. Add the bell pepper and scallions and cook over medium-low heat until the bell pepper softens, about 4 minutes.
Add the tomato and cook for 3 to 4 minutes longer, stirring, until it softens.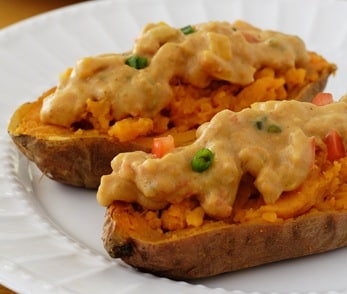 Sprinkle the flour in and stir until well blended with the vegetables. Pour in the water and bring to a gentle simmer.
Whisk in the cashew butter, then add the curry and optional ginger. Cook for another 2 to 3 minutes, until smooth and thick. Season with salt and pepper, then serve at once. Or, cover until needed, then heat through before serving.
Nutriton Information:
Per ¼ cup: 116 calories; 9g fat; 50mg sodium; 7g carbs; 1g fiber; 3g protein