Imagine delicately spiced pears cooked just until fork tender, sitting atop a luscious pillow of maple-scented cashew crème, all contained within a soft, nutty crust. Sound like a dream? Well wake up, because this delight is easily a reality! This is one amazing finish to any meal, sure to please all palates and diets alike. Not only is it gluten-free, but this tart can also be adapted for a low-sugar dessert. Simply omit the granulated sugar in the pear topping, and replace the granulated sugar in the crust with more almond meal. Just be sure to save yourself a generous slice beforehand, as the likelihood of leftovers by the end of the night will be slim to none!
In sticking with the gluten-free theme, this tart utilizes brown rice flour for a wonderfully textured crust. Brown rice flour can be found among the other specialty flours in the baking aisle, and in some bulk food departments. Though nutritionally inferior, white rice flour can be substituted measure for measure should the brown rice version be difficult to find. Also, if a food processor is not within your grasp, feel free to replace the 1 ½ cups of whole cashews with 1 cup of cashew butter. When using store bought cashew butter, the cashew crème can be made in your blender just as simply. Check your local natural food store or online for a wide range of nut butters. Recipe and photo by Hannah Kaminsky, from My Sweet Vegan: Passionate About Dessert.*
Makes: 12 to 14 servings
Crust:
½ cup granulated sugar
1 cup almond meal
¼ cup brown rice flour
¼ cup vegan buttery spread (such as Earth Balance)
2 tablespoons brown rice syrup
Cashew Crème:
1 ½ cups whole, raw cashews or 1 cup cashew butter
½ cup water
¼ cup maple syrup
1 teaspoon vanilla extract
Pear Topping:
2 firm, medium-sized pears
¼ cup granulated sugar
½ teaspoon ground cinnamon
¼ cup sliced almonds for garnish
Preheat the oven to 325ºF (160ºC).
Combine the sugar, almond meal, and brown rice flour in a medium bowl. Melt the margarine and pour it in, along with the brown rice syrup. Stir to coat all of the dry ingredients thoroughly, and press this mixture firmly into the bottom of a 9 inch round springform pan. Bring the crust about 1 inch up the sides of the pan, and set aside.
In a food processor, begin grinding down the whole cashews, if using. It may take 5 to 10 minutes for the cashews to begin releasing their natural oils and turn into a smooth paste, but don't stop short, as it is important that there are no lumps. Once it looks pretty much like cashew butter, add in the water, maple syrup, and vanilla, and process again to combine. Smooth the resulting crème into your crust and set aside again.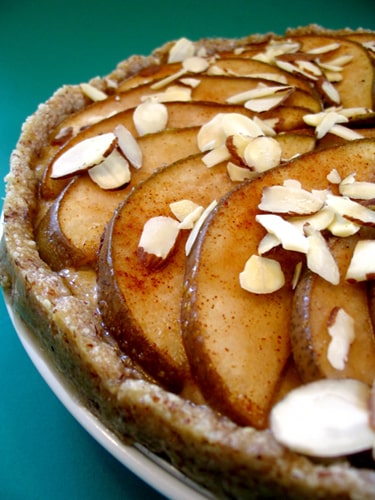 Core and slice your pears by first cutting them lengthwise in half, and then cutting the halves into about ⅛ inch slices. There is no need to peel the pears, as the skins add extra flavor, texture, and fiber. Toss the slices with the sugar and cinnamon, and arrange them on top of your cashew crème. Bake for 20 to 25 minutes, until the pears soften. Let cool and sprinkle with sliced almonds before serving.
Here are more of VegKitchen's 

Vegan Fine Pastry

 recipes.
Sweet tooth still craving? Here are more 

Vegan Baking and Sweets

.
Hannah Kaminsky is the author of My Sweet Vegan* and the forthcoming Vegan Desserts.* Visit her blog, Bittersweet.
*This post contains affiliate links. If the product is purchased by linking through this review, VegKitchen receives a modest commission, which helps maintain our site and helps it to continue growing!