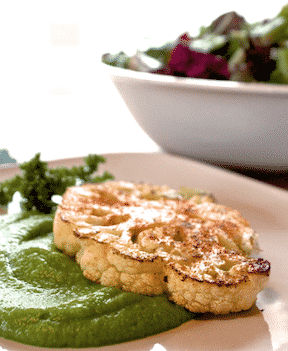 This cauliflower recipe makes the most beautiful presentation and it's a breeze to make. Minimal ingredients ... whole foods at their best. I served these with a big, fresh salad. Perfect lunch! The trickiest part to this recipe is slicing the cauliflower, only because you will lose some. It's mostly the inner slices that will easily retain their structure. The rest just fall apart, so be prepared to have another cauliflower recipe on hand for the leftovers! Contributed by Helyn Dunn from her blog Helyn's Healthy Kitchen.
Serves: 2 to 4
To make the steaks:
2 small heads of cauliflower

1 teaspoon olive oil

Paprika, coriander and freshly ground pepper
To make the purée:
1 small onion, chopped

10-ounce bag frozen green peas

¼ cup plain unsweetened non-dairy milk

2 tablespoons fresh parsley

Salt and freshly ground pepper to taste
Preheat oven to 425 degrees F. Line a baking pan with parchment paper.
Remove the bottom core of the cauliflower. Stand it on its base and, starting in the middle, slice it in half. Then slice steaks about ¾" thick (I got 5 steaks out of my 2 heads).
Place steaks on baking pan. Lightly coat the front and back of each steak with the olive oil. Sprinkle with the paprika, coriander and pepper. Bake for 30 minutes, flipping once at the 15 minute mark.
Steam the chopped onion until soft. Add the peas and steam until hot (don't overcook! you want to retain that beautiful color).
Place veggies, nondairy milk and parsley in blender or food processor and purée until smooth. Season with salt and pepper. Transfer to a serving container such as a gravy boat.
Serve at once, allowing one or two "steaks" per serving. Pass around the green pea puree.