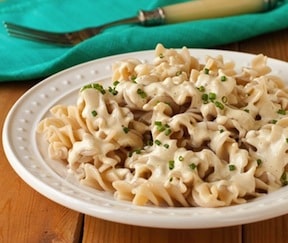 This cashew-based dairy-free recipe makes a delicious Cheesy Sauce for Quick Vegan Mac 'n Cheese that is quick, easy, and rich-tasting.
Make your own vegan cheese, yogurt, mayo and margarine! Cheaper and much tastier than store-bought, this e-book brings you the best 12 recipes for dairy alternatives from The Recipe Renovator blog. Complete with an ingredient list, quick recipes, and a more complex artisan vegan cheese, this will get you started making your own cheese and dairy substitutes today. Whether you are a vegan for ethical reasons, have gone plant-based for health reasons, are lactose-intolerant, or just want to eat fewer animal products, this book will give you everything you need to create your own "dairy case" at home. Recipe and photo from Twelve Terrific Dairy Substitutes: Vegan and Gluten-Free by Stephanie Weaver, © 2013. Used with permission.
Cheesy Sauce for Quick Vegan Mac 'n Cheese
Makes: About a cup, enough for 4 servings (about 8 oz dry) pasta
Ingredients
½ cup raw cashews
8 oz dry pasta
1 lemon
3 tbsp nutritional yeast flakes
1 ½ tbsp miso, any type
2 tsp onion powder
½ tsp garlic powder
½–¾ cup filtered water or pasta water
sea salt, to taste
Instructions
If you have time, soak the cashews in filtered water for 30 minutes, then rinse.
Cook pasta accordingly. Juice the lemon into the blender.
Place all ingredients in the blender with the smaller amount of water. Ideally, scoop out some of the pasta water from the pot, as it adds a nice thickness to the sauce. Blend until you get a smooth consistency. Add additional filtered water if needed to get the thickness desired. Sauce will thicken as it stands.
Visit Stephanie Weaver at The Recipe Renovator.