Chia is taking the health world by storm, and for good reason. Packed full of nutrients, versatile, easy to use, shelf stable and almost flavorless, chia should be in your diet too.
Chia is a complete vegan protein, contain all essential amino acids. Just one tablespoon has as much protein as an egg. And speaking of eggs, chia gel can be used as an egg replacement in baked goods! With the fiber of five servings of whole wheat bread packed in there too, its easy to use chia to stay full all day long. Adding chia to beverages sipped on throughout the day can even help control food cravings and help with weight loss. Chia has been shown to decrease inflammation with its high antioxidant levels – even more than blueberries! It has even been linked to lowered blood pressure and blood sugar stabilization.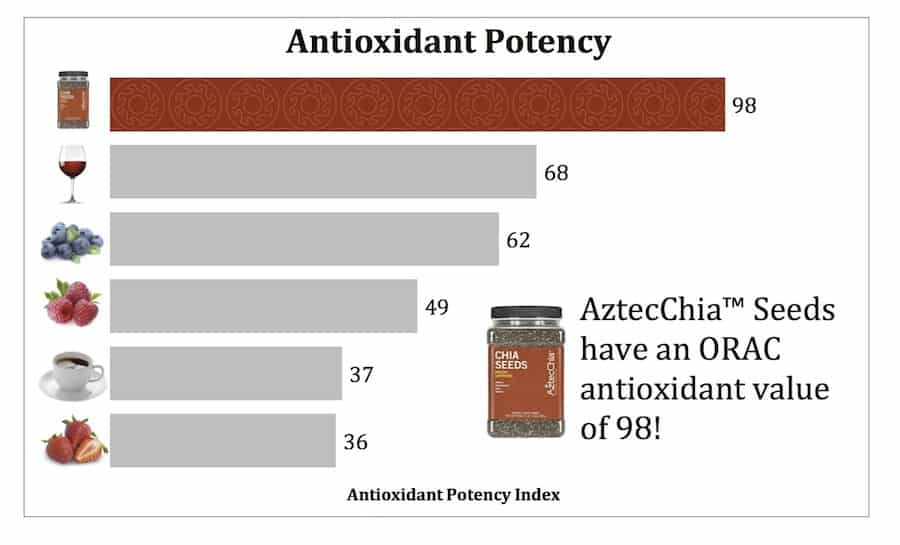 How to use chia every day
Ounce for ounce, chia seeds have even more nutrients then the often compared flax seeds. If that's not reason enough to switch consider this: unlike flax seeds, chia doesn't need to be ground up before use. They have a much longer shelf life than flax too, protected by their high omega and antioxidant content. Switch chia with all any recipe you'd typically use flax.
Chia gel is easy to make and a great way to quickly add all those valuable nutrients to anything you are eating. Simply mix 2 tablespoons of chia seeds with 1 cup of water and wait for it to gel! Chia seeds have a hydrophilic fiber layer covering the inner seed. This layer can soak up to 10x the seeds weight in liquid! The digestive system slowly breaks down the hydrophilic liquid layer on soaked chia before it gets to the good stuff inside. This slow release of liquid and nutrients has a positive effect of both hydration and blood sugar levels. Add chia gel to a glass of water with a squeeze of lime juice for a typical Mexican "chia fresca" or add a cup or two, to a large pot of spaghetti sauce as a thickening agent. The possibilities are endless!
Sprinkle raw, whole seeds into green smoothies, mix into peanut butter for an even bigger protein boost or simply add to salad dressing.
For a wonderful, healthy, vegan and kid-approved dessert, try chia seed pudding. Mix 3-4 tablespoons of chia with a cup of any juice or milk alternative. Coconut and almond milk are both fantastic bases for chia pudding. After choosing your "base" pick any tasty mix-in's you can think of! Fresh fruit, cocoa powder, coconut shavings, whatever you can think of! You'll be pleasantly surprised by the texture and the flavor combinations you create.
Chosen Foods Chia seeds are grown in their birthplace, Guadalajara, Mexico, on the same land the ancient Aztecs grew their seeds many, many years ago. The climate, altitude and rich volcanic soil are the perfect combination to create a superior seed. We work directly with small family farmers, teaching them about sustainable growing practices, water conservation and how to be energy efficient. We never use chemicals or pesticides on any of our crops and test every harvest to guarantee a pure product. We also regularly test our omega-3 values against seeds grown in other parts of the world. We are proud to share that Chosen Foods chia, has some of the highest omega values of any chia available on the market today! Because we work directly with farmers, we cut out the middle man and pass on the savings directly to you. Chosen Foods has one of the best prices for chia anywhere. To purchase,click here.