There's something about re-creating egg dishes in vegan versions that's fun to do and comforting to eat. After going plant-based, we sometimes miss favorite foods, and these easy vegan chickpea flour omelets do the trick as a swap for their egg equivalents.
While these omelets don't taste exactly like eggs, they don't have to —they're tasty in their own right and do a fine job of enveloping your favorite veggies. They're excellent for brunch, portable lunches in a flat container, and as a light dinner with fresh whole grain bread and a salad, or a baked potato.
Use this basic recipe as a jumping off point. These are part art and part science, since there are a few variables — the size of the skillet, how firmly you pack the chickpea flour, how hot the skillet is. If you like this recipe enough to make it again and again, you'll see that it becomes easier each time you make it!
You'll want to experiment with your own fillings, toppings, herbs, and seasonings. This formula adapts to frittata style easily.
Makes: 3 omelettes or 3 frittatas
Vegetables of your choice for filling (see note)

Omelets (or frittatas)
1 cup chickpea (garbanzo) flour (see note)

2 tablespoons nutritional yeast

1 teaspoon baking powder

¼ teaspoon ground turmeric or ½ teaspoon curry powde

¼ teaspoon salt or kala namak (see note)

¼ teaspoon dry mustard, optional

¾ cup unsweetened nondairy milk

½ cup water

1 tablespoon olive oil, plus more for cooking

Topping
Salsa or hot sauce for topping, optional
1  Lightly steam the vegetables you'd like to use (see first note below for specifics)
2  In a mixing bowl, combine the flour, nutritional yeast, baking powder, turmeric, salt, and optional mustard. Stir together until completely combined.
3  Make a well in the center and pour in the nondairy milk, water, and oil. Whisk together until completely smooth. If the mixture is too thick, add just a little more water; it should have the consistency of pancake batter.
4  Heat enough olive oil to coat the bottom of a nonstick omelet-sized pan (8 to 10 inch). Let it get nice and hot, enough to make a drop of the batter sizzle.
5  Omelet: Ladle the batter ¾ cupful at a time for 10-inch skillets or ½ cupful for 8-inch skillet. Tip the pan so that the batter extends to the edges. Cook over medium heat until the top firms up and the underside is golden. Don't overcook, which would make the omelet crack when you fold it. Flip and cook the other side, then fill with your prepared vegetables and fold over.
6  Remove to a plate and repeat with the next omelet (or two). Serve right away and pass around optional toppings like salsa or hot sauce
Variation:
Frittata: Stir 1 to 1 /2  cups of prepared veggies (see first note, below) into the batter. Ladle about 1 ½ cup's worth of this mixture into the oiled and heated 10-inch pan; about 1 cup's worth into an 8-inch pan.
Cook over medium heat until the top firms up and the underside is golden-brown. Flip and cook the other side. Repeat with the remainder, then serve at once with optional salsa or hot sauce.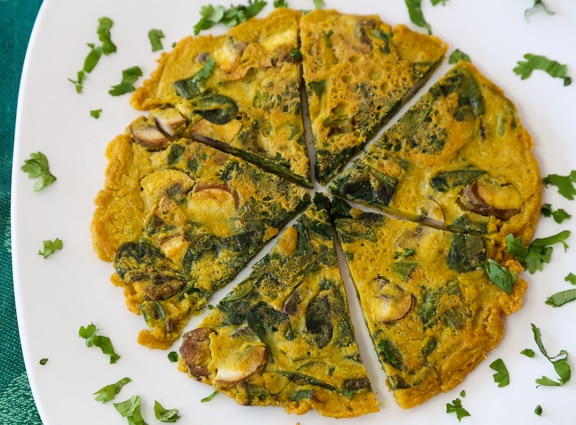 Notes
Vegetable fillings: Prepare whatever you'd like to go into your omelet first. We love a spinach-mushroom-scallion combo, shown here. Just wilt down the spinach and mushrooms down in a little water (you can use the same skillet you'll be using for the omelets), then drain well and set aside. Each omelet can hold about ½ cup of vegetables.
Other good fillings for omelets include lightly steamed asparagus, broccoli, and/or zucchini; sautéed onions and/or bell peppers; and sliced tomatoes (these need not be precooked).
Fresh herbs: Use to your heart's content. Parsley, cilantro, dill, scallions, chives, fresh oregano — they're all good.
About chickpea flour: This kind of flour is sometimes labeled garbanzo flour, as Bob's Red Mill does; it's also sometimes packaged as gram flour or besan.
Kala namak, or black salt: Actually a brownish-pink Himalayan salt), it helps add an egg-like flavor and aroma to dishes.
Nondairy cheese: It's not in the recipe above but you can also add a sprinkling of nondairy cheese shreds for an extra measure of yum!