A two-ingredient classic dessert — how can you go wrong? Strawberries and dark chocolate are just made for one another. Though this hardly even qualifies as a recipe, there are are a few tips and tricks that make this come out just right.
Makes enough for 1 pint strawberries, or a bit more
1 pint firm sweet strawberries, preferably medium size
½ cup vegan semi-sweet chocolate chips or buttons, or ½ bar
good-quality semi-sweet baking chocolate (whichever you use,
it should have at least 55% cacao content)
Rinse the whole strawberries, leaving the hulls on them, and pat them dry (the chocolate will adhere better) with a clean tea towel.
Line two plates with baking parchment or wax paper.
Place the chocolate chips in a small, deep bowl (deep is easier to work with than wide and shallow, but do your best with what you've got!). Melt the chocolate in a microwave (start with 1 ½ minutes on High, then stir and see if you need more time) or perched in a small saucepan of boiling water.
Make sure the chocolate is really well melted. Grab each strawberry by the hull and dip into the chocolate about ¾ of the way up, turning it all around to get it coated evenly. Place on the parchment or wax paper.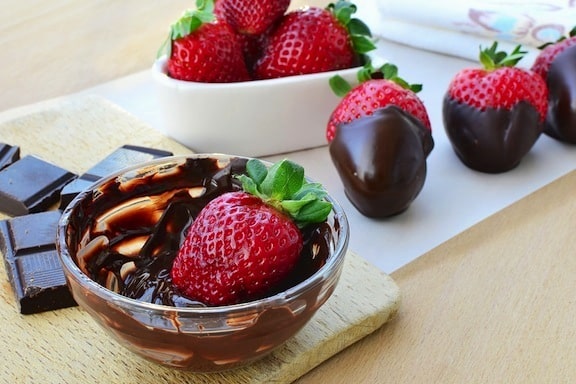 Repeat with the remaining strawberries, reheating the chocolate as needed, as it's much easier to get it to adhere to the strawberry when it's very hot and melty. If you have any chocolate left over, use it to coat another fruit, like a few banana slices, or blueberries. On the other hand, if you run out, melt a little more chocolate and proceed in the same manner.
Once all the strawberries are done, place the plates in the refrigerator for at least an hour. Once these have hardened, you can transfer to an attractive serving container, or consolidate into a covered storage container. These will keep in the refrigerator for up to 3 days.