This creamy dressing, made with omega-rich hemp seeds and fragrant cilantro and mint, is an excellent choice for green salads, steamed vegetables, and pasta salads. Recipe contributed by Leslie Cerier. Photo by Tracey Eller.
Makes about 1 cup
½ cup hemp seeds
½ cup water
¼ cup fresh cilantro
2 tablespoons fresh lemon juice
2 cloves garlic
1 tablespoon chopped fresh mint, or to taste
1 teaspoon extra-virgin olive oil, or see Note
½ teaspoons sea salt
Pinch of black pepper
And place all the ingredients in a blender and purée until creamy. Adjust seasonings, if desired. Use immediately. Refrigerate any leftovers.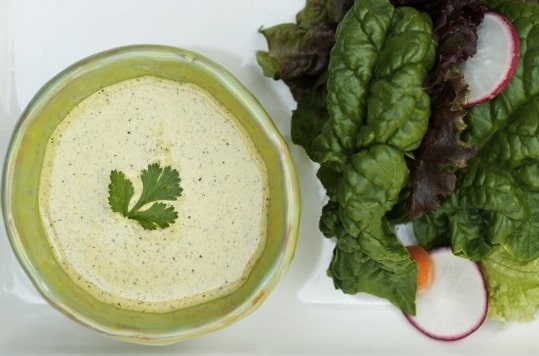 Note: Leslie developed this recipe for Nutiva, and recommends their Nutiva Organic Red Palm Oil*