To my mind, store-bought granola is a pale imitation of a good homemade variety. This granola recipe takes minutes to mix, a short time to bake, and tastes fresher than those bought in bulk or in boxes. 
Makes about 6 cups
4 cups rolled oats (or oatmeal
for a finer consistency)
1 cup wheat germ or oat bran (or half of each)
¼ cup untoasted sesame or sunflower seeds
½ cup raw slivered or sliced almonds,
or chopped walnuts or pecans
⅓ cup maple syrup or agave nectar
1 tablespoon safflower oil
½ teaspoon cinnamon
1 cup dried fruit of your choice (raisins, cranberries, blueberries,
or sliced apple, apricots or pineapple, or a combination)
¼ cup hemp seeds, chia seeds, or ground flaxseeds, optional
¼ cup cacoa nibs or finely chopped vegan chocolate, optional
Preheat the oven to 275º F.
Combine the first 4  ingredients in a large mixing bowl.
Combine the agave or syrup with the oil and cinnamon in a small container. Drizzle into the oat mixture, stirring continually, until and mix thoroughly until the mixture is evenly coated.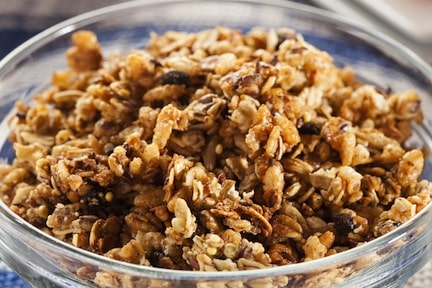 Spread on one or two lightly oiled baking sheets. Bake, stirring every 10 minute or so, for 20 to 30 minutes, or until the mixture is golden.
Allow the granola to cool on the baking sheets, then stir in the dried fruit and optional seeds. When completely cool, transfer to jars to store.