The peppery flavor of watercress provides a delightful contrast to the sweetness of summer corn in this delicious cold soup. Adapted from Vegan Soups and Hearty Stews for All Seasons.
Serves: 6 to 8
6 medium ears fresh sweet corn
2 tablespoons olive oil
2 large onions, chopped
2 cloves garlic, minced
2 medium potatoes, peeled and diced
1 bunch watercress leaves and stems (about 2 cups coarsely chopped)
2 cups rice milk, or as needed
Salt and freshly ground pepper
Fresh thyme sprigs for garnish, optional
Cook the corn in plenty of rapidly simmering water until the kernels are just tender, then remove the corn with tongs and reserve the cooking water. When the corn is cool enough to handle, scrape the kernels off the cobs with a sharp knife. Set the kernels aside.
Heat the oil in a soup pot. Add the onions and garlic and sauté over medium-low heat until golden.
Add the potatoes and 4 cups of the cooking liquid from the corn, and bring to a rapid simmer, then lower the heat. Cover and simmer gently until the potatoes are tender, about 10 to 15 minutes longer, then remove from the heat. Stir in the watercress.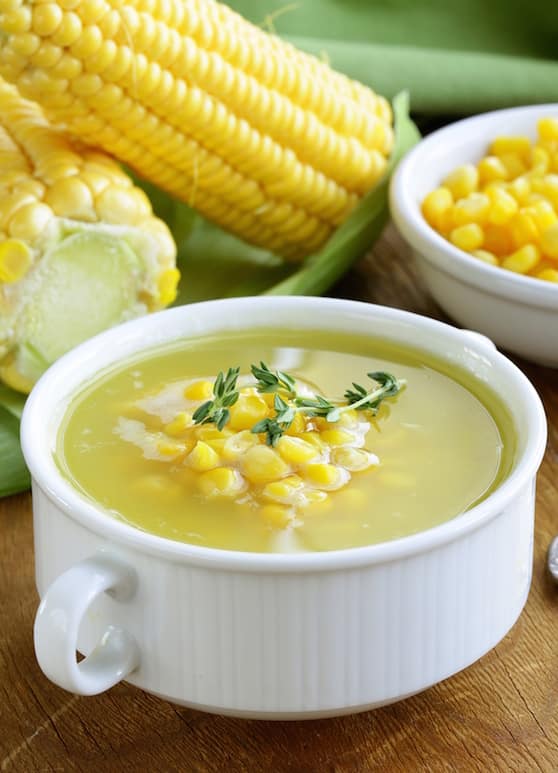 Set aside 1 ½ cups of the corn kernels to use as garnish; add the rest to the soup. With a slotted spoon, transfer the solid ingredients from the soup to the food processor or blender and puree until smooth, then return to the soup pot. Or, simply insert an immersion blender and puree until smooth.
Add enough rice milk to give the soup a slightly thick consistency. Season with salt and pepper. Let the soup cool to room temperature, then refrigerate until chilled.
Top each serving with about ¼ cup of the reserved corn kernels, and garnish with fresh thyme sprigs if desired.
Nutrition information
Per serving:  Calories: 186;  Total fat: 5g;  Protein: 5g;  Fiber: 4g;  Carbs: 35g;  Sodium: 31mg