This dish featuring cold shirataki noodles will remind you of Asian summer rolls — without all the soaking, rolling and fuss. Combined with crisp lettuce and bottled sweet chili sauce, this is a 5-minute salad that pleases both the palate and the eye.
First of all, what are shirataki noodles? If you haven't discovered them yet, you'll be pleased to know that they come ready to eat (no cooking!), and they have zero calories. If you're gluten-free, you can check that box off, too, Shirataki noodles are made with a yam-like tuber called devil's tongue, and have a firm, pleasing texture. Sometimes tofu is added to them (hence: tofu shiratake), but you can get them soy-free, too.
Shirataki are water-packed in small cellophane packages, and can be found in the refrigerated section of natural foods stores and many supermarkets (near the produce section). The only caveat: When you drain them, rinse well, since the water they're packed in can have a bit of a funky (though completely harmless) aroma.
Serves: 2 to 3
Time to table: 10 minutes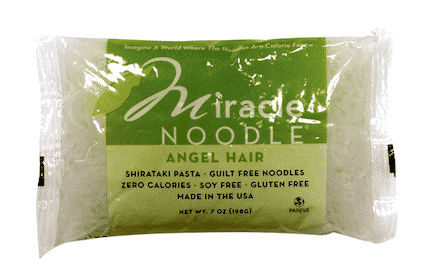 What you need
1 package shirataki noodles

About half of a head of romaine lettuce

¼ to ½ cup cilantro leaves

¼ to ⅓ cup sweet chili sauce

Salt to taste

Sesame seeds or chopped peanuts for topping
What to do
1  Drain the noodles, then rinse well. Drain very well again. To make sure they don't retain extra moisture, place on several layers of paper towel and pat dry; though this is an extra step.
2  Slice the romaine thinly crosswise. Combine with the shirataki in a serving bowl, then add the cilantro and chili sauce.
3  With the tines of a large fork or two, toss the noodles and romaine together.
4 Season with salt to taste, sprinkle with sesame seeds or peanuts, then serve.
Variations: To make this salad even more enticing, add a few sliced shiitake mushrooms, pre-grated carrots, and/or sliced scallions.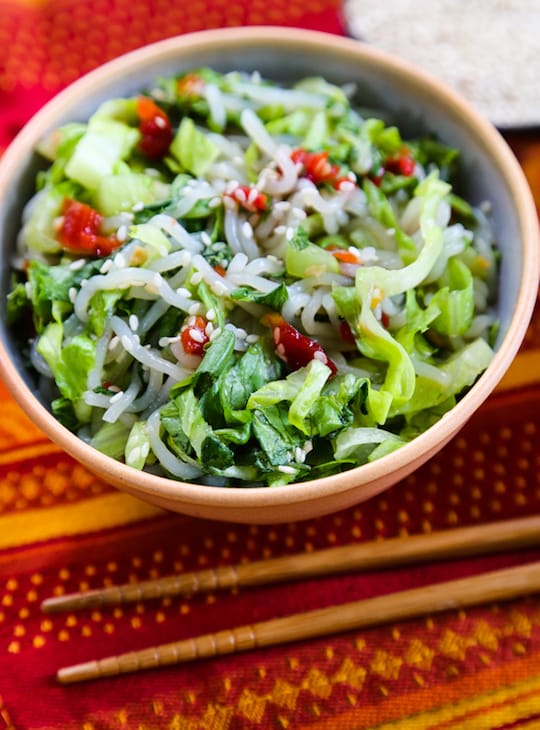 Photos: Evan Atlas