This simple Asian-flavored cold noodle dish is delicious even without the parsley or cilantro sauce, though I highly recommend it. Hearty soba (buckwheat) noodles mingle with refreshing cucumber, and as an added bonus, these noodles are naturally gluten-free. That being said, you can substitute udon or any long whole-grain pasta for the soba. Photos by Evan Atlas.
Serves: 4 to 6 servings
8 ounces soba (Japanese buckwheat noodles)

1 large crisp organic cucumber, or 3 good-sized Kirby cukes

1 tablespoon dark sesame oil

3 tablespoons mild vinegar (such as rice, coconut, or white wine) or more, to taste

2 tablespoons reduced-sodium soy sauce or tamari,

 

or more to taste

2 tablespoons tan or black sesame seeds

2 scallions, green parts only, thinly sliced

Lots of freshly ground pepper

Parsley or Cilantro Sauce, below, optional
Cook the noodles in plenty of steadily boiling water until al dente. Drain and rinse under cold running water until cool, then drain well again.
Meanwhile, cut the cucumber in half crosswise. if you have a spiral slicer, run the cucumber through it, each half at a time, using the fine blade. Cut the long strands into shorter ones. If you don't have a spiral slicer, you can cut the cucumber into long matchsticks, or make "linguini" with a vegetable peeler.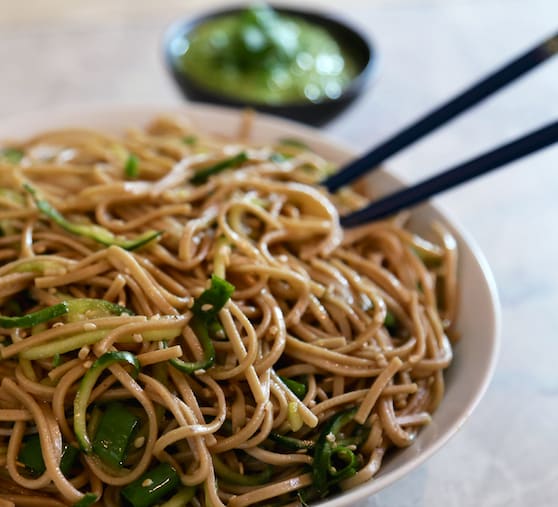 Whichever way you choose to cut it, salt the cucumber lightly, set in a colander, and let stand for a few minutes. Then, blot with paper towels or a clean tea towel to make the cucumber drier and crisper.
Combine the cucumber and cooked noodles a mixing bowl with the remaining ingredients and toss together. Taste to see if you'd like more vinegar or soy sauce. Serve as is or topped with sauce, following.
Per serving, based on 4 servings: Calories: 212  /  Total fat: 5g  / Protein: 8g  /  Fiber: 2.1g / Carbs: 34g / Sodium: 403mg
Parsley or Cilantro Sauce Makes about ¾ cup
1 firmly packed cup parsley or cilantro leaves (or a combination)

2 tablespoons tahini, or cashew or almond butter

2 tablespoons lemon or lime juice

Pinch of salt

¼ cup water
Combine all the ingredients in a food processor. Process until fairly smooth, but not completely pureed.
Transfer to a small bowl and pass around to serve over noodles.
Per 2-tablespoon serving: Calories: 33 / Total fat: 2.5g / Protein: 1g / Fiber: 15g / Carbs: 1.5g / Sodium: 1.5 mg