Especially during the warmer months, it's good to add more raw food to your daily fare. Making raw "noodles" from zucchini and other vegetables is a fun way to do just that. There are several kinds of spiralizers (AKA spiral slicers) on the market as this pursuit has become so popular, but here we'll give an in-depth review of the World Cuisine Tri-Blade Spiral Slicer. This brand seems to be the most popular and well-rated on Amazon.com. The people have clearly spoken!
Here are VegKitchen's Raw Veggie "Noodle" Dishes — many are for squash, but of course there are many other vegetables and fruits you can spiralize — sweet potatoes, carrots, turnips, apples, beets ...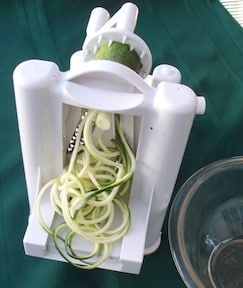 #1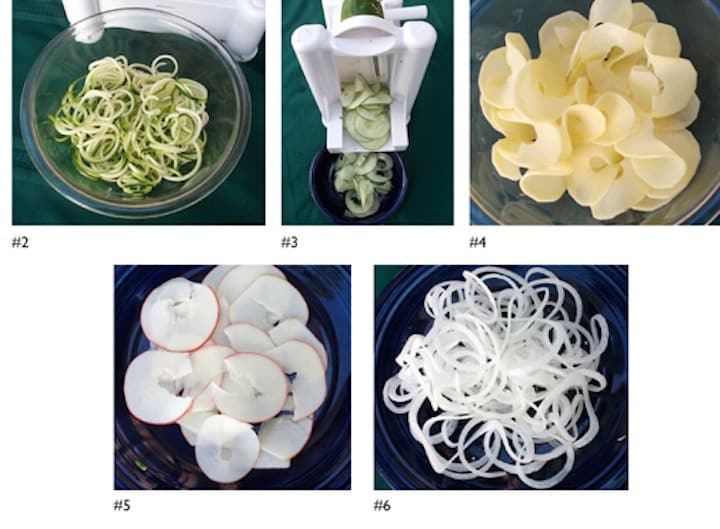 This spiral slicer comes with three changeable blades. It's lightweight yet durable, and easy to clean. It takes mere minutes, if not seconds, to accomplish the task at hand, and all this is done with a hand-crank—no electric power needed. Here is the result of some of my experimenting, and what I did with them:
Basic zucchini noodles —here's how they look coming out of the machine, using the fine blade.
Zucchini noodles in a bowl. Here's a way to use them: Raw Squash "Noodles" with Fresh Tomato Sauce.
The slicer blade makes long, very thin spirals from cucumber. A very crisp cucumber is a must for this. I cut the long pieces (or was it all one piece?) into bite-sized segments and marinated them in rice vinegar and a little natural granulated sugar. After an hour or so, I poured most of the liquid off and sprinkled with sesame seeds.
The same slicer blade made these pretty potato spirals. They're so even and thin, this would probably be an incredible way to make homemade potato chips in the oven.
Slicer blade, part three—I sliced an apple, and though it didn't make spirals, it made super-thin slices that might appeal to toddlers and young children. These paper-thin slices would be perfect for using in raw apple desserts. A dehydrator would make quick work drying these, or you can bake them in the oven at a low temperature to make apple chips.
The larger spiral blade made quick work of an onion—and it was tear-free! These would be nice added to roasted vegetable medleys, or sautéed until golden as a start for a stir-fry or for topping pizza.
One major disappointment is that this tool comes with scant information, and no recipes. There's a one-page flyer that comes with it, plus instructions printed on the box. Most enterprising cooks (or raw food enthusiasts, as the case may be) can figure it out, and find creative ways to use this machine, but more info would have been useful.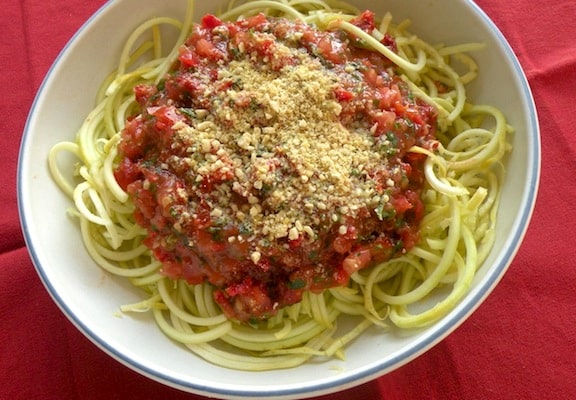 Fun for kids
As I was experimenting, it occurred to me that making all these neat shapes and spirals from veggies (as well as fruits—see the apple slices, below) can make produce of all sorts more enticing to kids and other finicky eaters. Let your kids help make these fun vegetable cuts, and I doubt they'd be able to resist eating them.
Please supervise kids, and tell them to keep their fingers away from the blades, which are super-sharp. And do the same when you rinse the blade plates—if you see something stuck in a blade, dig it out with a fork or knife, not your fingers!
The verdict
Can I live without this spiral slicer? Definitely. For me, it's not a must-have like my dearly loved and daily used Vitamix. Do I recommend it? Most definitely! While it's not something a healthy kitchen can't do without, it's great fun, and for anyone who enjoys "noodling around" in the kitchen (pun intended), and finding more ways to prepare produce, the small investment is worth making.
See more about the World Cuisine Spiral Slicer on Amazon.com, as well as reader reviews.
*This post contains affiliate links. If the product is purchased by linking through this review, VegKitchen receives a modest commission, which helps maintain our site and helps it to continue growing!