Bento box school lunch kits are a fun route to healthy meals your kids will actually eat! If these contemporary bento boxes were available when my kids were growing up, they would have made the process of packing lunches much more enjoyable. As it was, I stood in the kitchen at 6:30 a.m. every school day for 14 years, packing adequate yet boring lunches for my kids. They grew up vegetarian until ages 10 and 12, then went vegan, and never wanted to buy lunch at school.
The ingenious bento box lunch kits that are so easy to come by these days inspires your child to enjoy his or her homemade lunches, and helps you, as the parent, enjoy making them! Older kids and teens will eventually be make and pack their own lunches in these colorful kits. And lest you think, "oh, no, unhealthy plastic!" these containers are safe in every way, including being BPA-free.
If you like the idea of having your school lunch info in one neat package, you might enjoy VegKitchen's affordable e-book (available in a downloadable pdf and other formats — e-reader and paperback as well). These recipes and ideas (more than 50 in total) will make the task of making school lunch for kids who are vegetarian or vegan a bit easier and even more fun. The recipes here will also be useful for those following dairy-free diets due to allergy or intolerance. For more information, go to Healthy School Lunches: Recipes and Ideas.*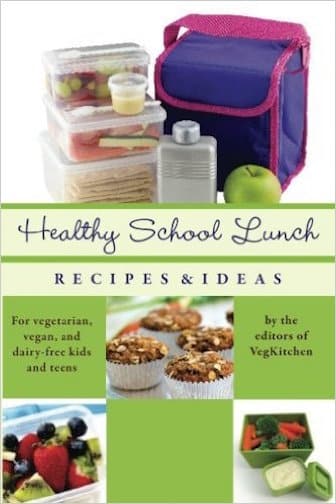 One of the wonderful things about the company that helped launch the trend — Laptop Lunches (now Bentology) — is that it grew from the conversations of two new moms (that would be Amy and Tammy, back in 1995)—who shared an interest in nutrition, fitness and the environment. From the Laptop Lunches site: "It has been estimated that on average a school-age child using a disposable lunch generates 67 pounds of waste per school year. That equates to 18,760 pounds of lunch waste for just one average-size elementary school."
Here are just a few sample lunch ideas from their site, which I've linked with some recipes on VegKitchen. The possibilities are truly endless, and you'll find tons of other ideas in Bentology's menu library (caution, these aren't all vegan, but the sample menus below are all plant-based).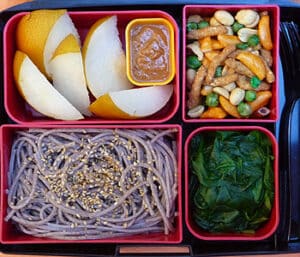 Sliced Asian Pears and dip | Spicy Asian mix | Simple Sesame Soba Noodles | Steamed spinach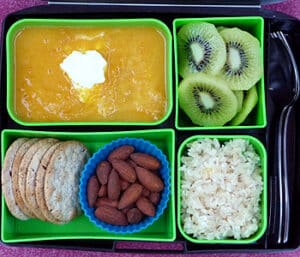 Butternut Squash and Apple Soup | Sliced kiwi fruit | Whole grain crackers and toasted almonds | Brown rice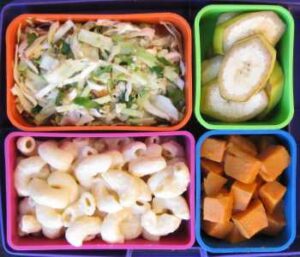 Your favorite simple cole slaw | Sliced bananas | Vegan Macaroni and Cheese | Diced butternut squash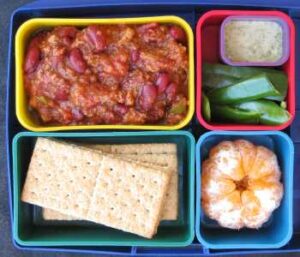 Classic Vegetarian Chili | Lightly steamed snow peas with dip | Whole-grain crackers | Seedless orange
Bento-inspired lunch boxes aren't just for kids! Adults who would like to save money, calories, and the environment can trade in their brown bags as well. Bento lunch boxes are veg-friendly, environmentally conscious, and inspire lunches that are more fun, economical, and nutritious for those who make them and eat them. Here are a few brands to explore and compare.
As mentioned, Laptop Lunches (this link will take you to the product at the top of this post on Amazon, but you can find many of their other products from there), They have a wide array of products and lunch accessories to explore, still findable as Laptop Lunches. Now known as Bentology, this company offers a wide array of styles for the growing child or teen (or their parents)!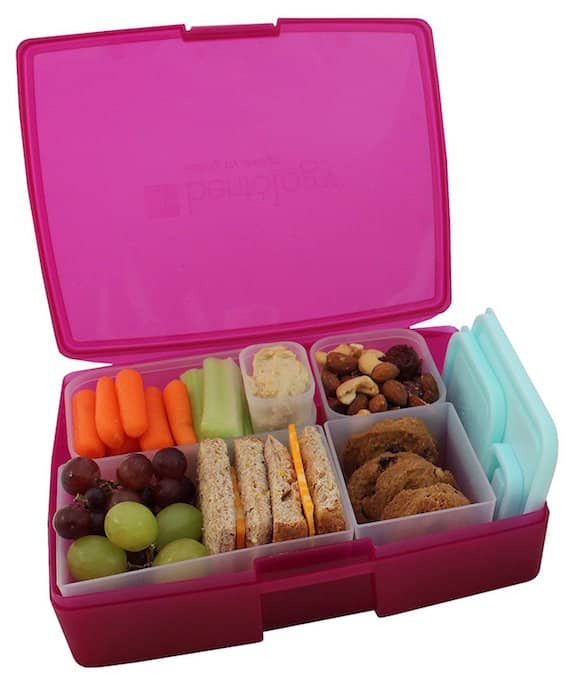 Bentgo Kids Children's Lunch Box is specially scaled for the appetites of 3- to 7 year-olds.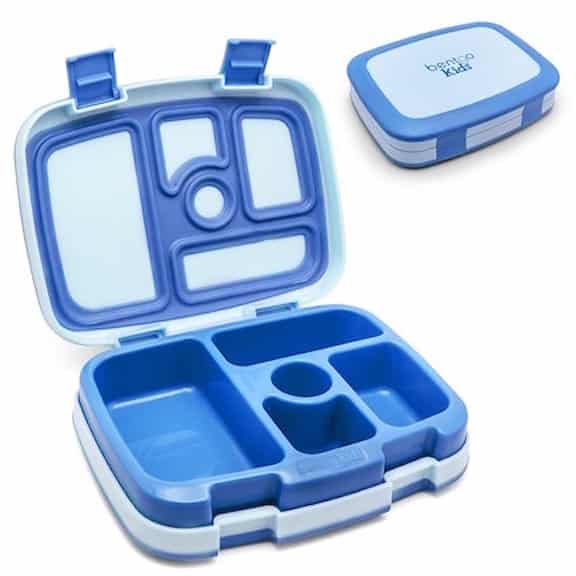 You get the idea. From these Amazon pages, you can explore other brands and varieties of bento box school lunch kits, aka bento-ware.
And if you don't want to use full-fledged bento box school lunch kits, there are a lot of other environmentally friendly containers that not only save a lot of waste but also make lunches easier to pack and more appealing to eat. For example, there's Qualitas, whose BPA-free boxes are definitely bento-inspired. You might even find similar, compartmentalized containers like these at supermarkets and certain department stores.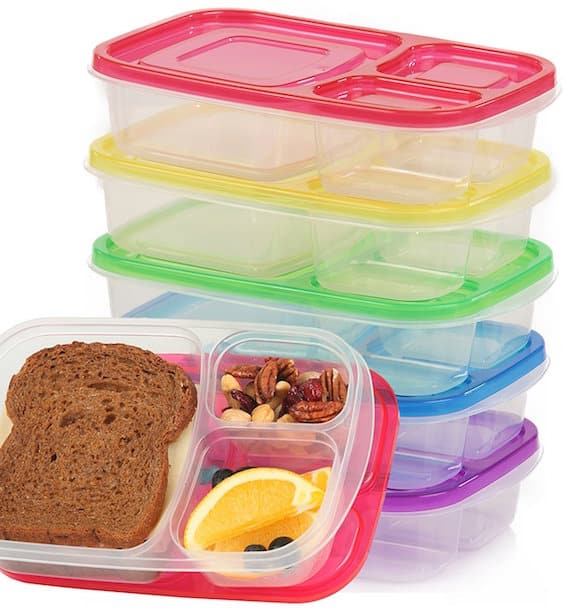 Read original Laptop Lunches founders Amy Hemmert and Tammy Pelstring's other helpful articles on VegKitchen:
---
*This post contains affiliate links. If the product is purchased by linking through, VegKitchen receives a modest commission, which helps maintain our site and helps it to continue growing!