A standard in the vegetarian/vegan repertoire, this variety of chili consists of beans and vegetables in a spiced tomato base. It's great for everyday meals as well as casual company dinners. It's especially welcome when the nippy days of late fall arrive. This mildly spiced chili is good in its basic form, or try the variations for spicing it up and embellishing it. Leftovers are great for thermos lunches. Perfect paired with Green Chili Cornbread or Vegan Cornbread. Adapted from The Vegetarian Family Cookbook. Photos by Lori Maffei.

Serves: 6 to 8

1 tablespoon olive oil
2 medium onions, finely chopped
2 cloves garlic, minced
1 large green bell pepper, finely chopped
4 cups cooked pinto or pink beans (about 1 ⅔ cups raw,
or two 16-ounce cans, drained and rinsed)
28-ounce can crushed tomatoes
1 ½ cups cooked fresh or thawed frozen corn kernels
1 to 2 fresh hot chili peppers, seeded and minced, or
4-ounce can mild or hot chopped green chiles
1 teaspoon dried oregano
2 to 3 teaspoons good-quality chili powder, more or less to taste
1 teaspoon ground cumin
Salt to taste
Heat the oil in a large soup pot. Add the onion and garlic and sauté over medium heat until the onion is golden.
Add the remaining ingredients except the salt. Simmer gently, covered, for 30 minutes, stirring occasionally. If the consistency seems too dense, add ½ cup of water at a time, until the consistency is just the way you like it (though let it stay nice and thick!).
Season gently with salt and adjust the other seasonings. If time allows, let stand for an hour or so off the heat, then heat through as needed before serving. Serve in bowls.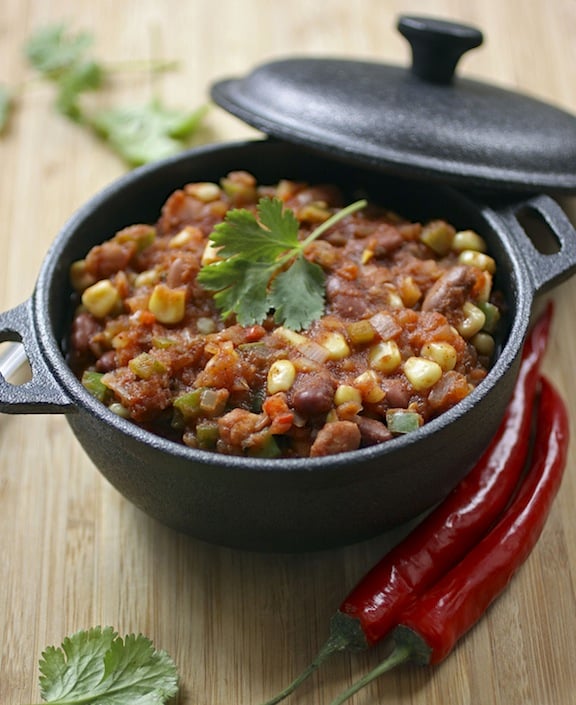 Variations and additions:
For a spicier chili, add one or two seeded and minced jalapeño or other chili peppers or jarred sliced jalapeños to taste. Let the chili simmer for 5 minutes or so after adding the jalapenos. You may want to set aside the portions of those who want to keep their chili mild.
Pass around a bowl of grated Cheddar-style nondairy cheese for topping individual portions.
If you'd like a textured chili without the "meaty" sensation, add 1 cup or so cooked quinoa, bulgur, or whole-grain couscous.
Nutritional Information:
Per serving: 216.8 calories; 2.8g fat; 480.8mg sodium; 775mg sodium; 41.2g carbs; 11g fiber; 3.2g sugar; 10.1g protein