In The Vegetarian Family Cookbook, Nava Atlas offers an abundance of flexible, adaptable recipes, plus a wealth of easy ideas, menus, helpful tips and information—not to mention her unique brand of moral support.
As a working parent and experienced vegetarian cookbook author (this book is her eighth), readers will feel as if she's right there in the kitchen with them. She has come up with over 275 recipes that are as delicious to eat as they are realistic to make—from kid-friendly comfort-food to more sophisticated dishes that adults and teens will love.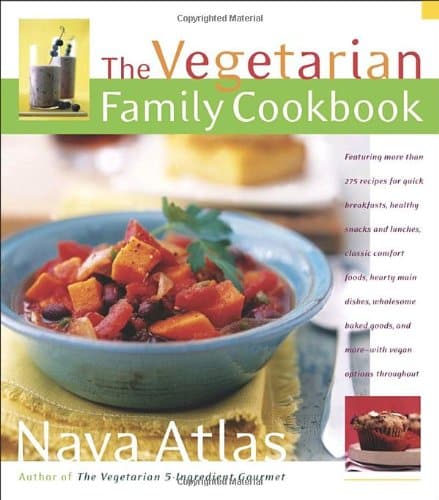 This definitive volume features more than 275 recipes and simple ideas for quick breakfasts, healthy snacks and lunches, classic comfort foods, hearty main dishes, wholesome baked goods, and more — with vegan options throughout.


THE VEGETARIAN FAMILY COOKBOOK is designed for everyone, particularly those families that:
Include one or more vegetarians or vegans
Has children or teens who want to go vegetarian or vegan
Is not necessarily vegetarian but wants to serve more meatless meals
Wants to use more organic foods
Needs easy ways to please picky eaters
Is looking for easy ways to transition from vegetarian to vegan, and/or
Wants the daily fare to include more vegetables, fruits, whole grains, and soy foods
"What I offer you here is not persuasion," Atlas writes, "but an abundance of options, information, and resources to make healthy, delicious, meatless meals as often as possible, whether your family is vegetarian, vegan, omnivorous, or a combination."  Never preachy, THE VEGETARIAN FAMILY COOKBOOK is a down-to-earth, straightforward guide to making healthier choices, including a slew of great reasons to go vegetarian (for both personal and planetary well-being), as well as reasons why choosing organic products is always best.
The recipes in THE VEGETARIAN FAMILY COOKBOOK cover a wide range—from quick and hearty breakfasts, to easy and inspired lunches—including bag lunches for the kids—on to dinners for rushed weeknights as well as more elegant entertaining. Some dishes require almost no time at all to prepare, while others require a more leisurely approach.
There are savory stews and cozy casseroles, perfect for that weekend meal or to prepare for the busy week ahead; simple salads and slaws, many that can be tossed together at the last minute; and new and inventive ways to prepare vegetarian staples like whole grain pasta, tofu, beans, and vegetables. Extensive chapters on quick, healthy snacks and wholesome baked goods round out the offerings.
*This post contains affiliate links. If the product is purchased by linking through this review, VegKitchen receives a modest commission, which helps maintain our site and helps it to continue growing!