Serve this simple Asian noodle dish alongside or as a bed for vegetable stir-fries and Asian-style tofu preparations. Shown in one of the photos below, mixed with Sweet and Savory Sautéed Tofu. Leftovers are good served cold and packed into school or brown-bag lunches. Photos by Rachael Braun.
Serves: 4 or more
8 ounces soba (buckwheat) noodles, any variety
2 tablespoons dark sesame oil
2 to 3 tablespoons soy sauce, or to taste
1 tablespoon sesame tahini, optional
1 tablespoon agave nectar
1 to 2 teaspoon grated fresh ginger, to taste
1 tablespoon rice vinegar or white-wine vinegar
1 tablespoon sesame seeds, plus more for topping
Cook the noodles according to package directions in plenty of rapidly simmering water until al dente, then drain and transfer to a serving container.
Whisk the remaining ingredients together in a small bowl.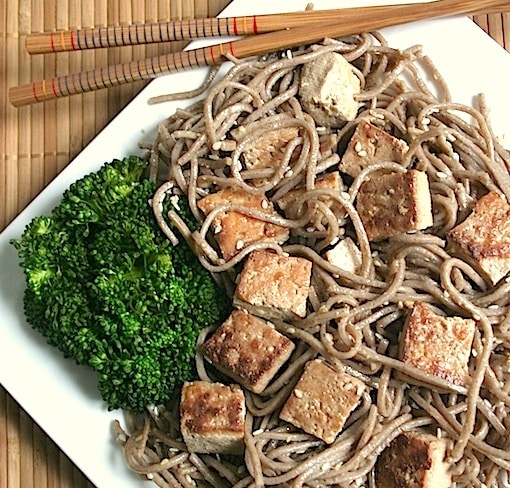 Drizzle the sauce over the noodles, and toss together until evenly coated. Serve warm or at room temperature, passing around extra sesame seeds for topping individual servings, if desired.
Variations:
This can also be made with udon or somen noodles.
If you're not using this as a bed for veggie or tofu stir-fries, try adding some sautéed mushrooms or wilted greens to these noodles.