This easy vegan mac and cheese is rich and comforting. Using pureed silken tofu as a base makes it super creamy. Boost the nutrition of this comfort food meal by serving with plenty of fresh veggies — this goes well with simply prepared broccoli or kale — and a colorful salad or platter of fresh cut vegetables with dip. For an even healthier sauce, try our Almost-Raw Cheez Sauce, based on baby carrots, raw cashews, nutritional yeast, and other nutrient-dense ingredient
Serves: 4 to 6 adults or 6 to 8 kids
10 to 12 ounces pasta, any short shape like
rotini, cavatappi, or elbows (preferably whole grain)
12.3-ounce package silken tofu
2 tablespoons vegan butter
1 ½ cups cheddar-style nondairy cheese (Daiya is good for this)
Salt to taste
Cook the pasta in plenty of rapidly simmering water until al dente, then drain.
Meanwhile, puree the tofu until perfectly smooth in a food processor or blender.
Transfer to a medium sauce pan and add the vegan butter and cheese. Slowly bring to a gentle simmer, stirring often, then cook over low heat until the cheese is thoroughly melted.
Combine the cooked pasta and sauce in a serving container and stir together. Season with salt to taste and serve at once.
Variations:
Top with fresh bread crumbs and bake in a casserole dish at 400º F. for 20 minutes, or until the top is golden and crusty.
Top with your favorite steamed or sautéed green veggies — this is delicious with broccoli florets, spinach, chard, or kale.
Adults might like to top their mac and cheese with browned onions, mushrooms, and/or sun-dried tomatoes.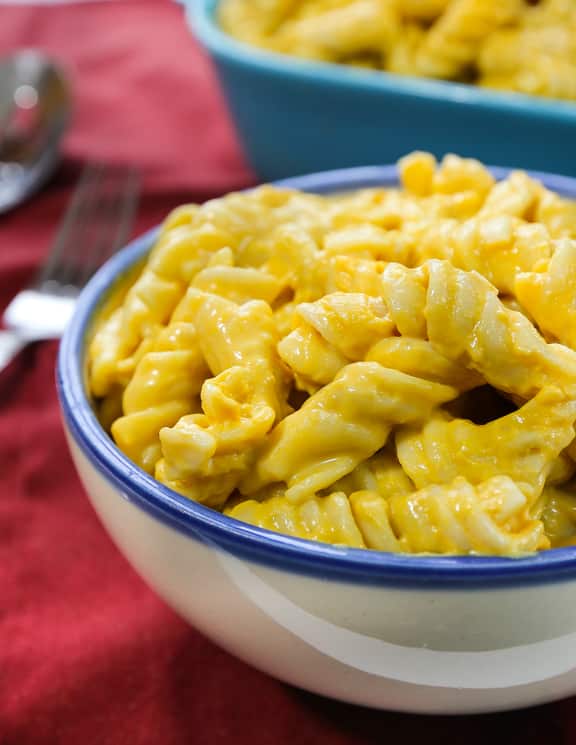 Nutrition Information
Per Serving: 240 calories; 16.8g total fat; 18.9g carbs; 4.7g protein; 480 mg sodium
Photos: Evan Atlas