If you want an easy way to add some greens to your holiday table, this salad is for you. My Grandpa used to make cranberry bread for Thanksgiving, and this is basically that — in salad form.  Cranberries, walnuts, orange, all mixed together ... it's like the holidays in a bowl!  This makes a moderate amount as everyday fare, so if you'd like a larger portion to serve at a vegan holiday meal, the recipe doubles or triples easily. Originally posted at and reprinted from Esther at A,B,C,Vegan. Photos by Rachael Braun. 
Serves: 2 moderately or 1 generously
⅓ cup chopped walnuts
½ cup fresh cranberries
7 to 8 leaves kale (preferably curly green)
1 tablespoon olive oil
2 tablespoons orange juice, preferably fresh,
or more as needed to moisten
Zest of ½ to 1 orange, optional (but highly recommended)
Salt and freshly ground pepper to taste
Arrange walnuts and cranberries on a baking sheet or foil and toast for 3-4 minutes in toaster oven.  Watch carefully to make sure the nuts don't burn - when the cranberries start popping, remove sheet from oven!
While nuts and cranberries are toasting, rip kale leaves into bite-size pieces. Discard stems.
Add olive oil, orange juice, and sea salt to kale leaves.  Massage for at least a minute.  Yes, this means put your hands into the bowl (wash them first!) and get them dirty!  Rub the leaves together to massage in the oil and break down the fibers.  Kale will become darker and bright green as you work.
Add toasted nuts and cranberries to kale leaves.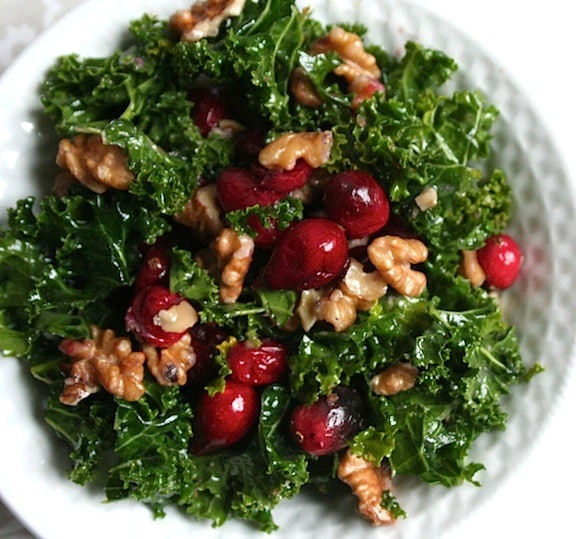 Esther is a Vegan Lifestyle Coach and plant-based nutritionist.  She works and blogs at A,B,C,Vegan, where she helps new vegans, experienced vegans, and the merely curious explore this wonderful world, giving inspiration, motivation, and community for a vegan lifestyle.