There are 1,001 great ways to use vegan burgers — other than as burgers, of course. Our latest veggie burger creation — using a grand total of 4 items (5, if you count the little bit of optional oil) — are these crazy-easy vegan sloppy joes. And to make the entire dinner, you'll be picking up 7 ingredients — head straight to the express lane!
The number one reason we like to use vegan burgers in meaty meatless dishes is because they give you a wide choice of healthy ingredients. Many burger crumbles and meat imitators are based on soy protein isolate, which isn't the healthiest ingredient; veggie burgers come in a wider range of ingredients including quinoa, beans, kale, eggplant, pea protein, and more. Here's a handy listing of the best vegan store bought veggie burgers.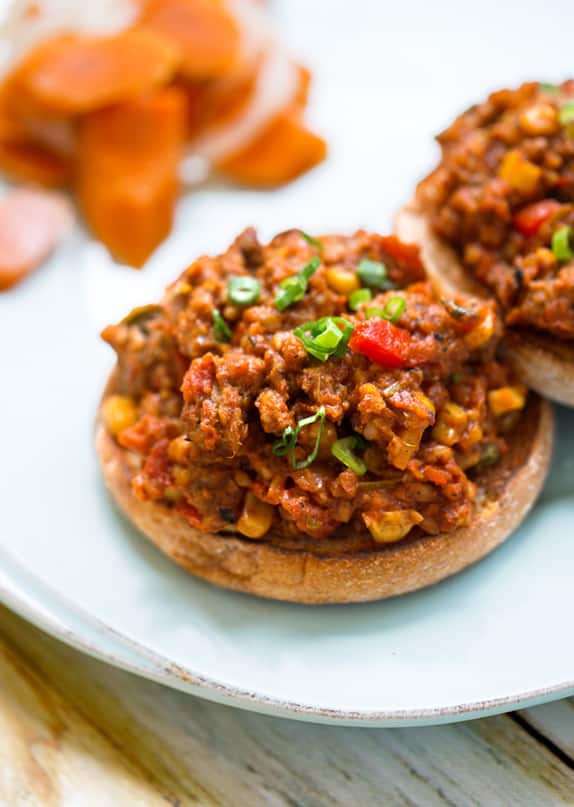 Vegan burgers and a jar of salsa give you lots of flavor with very little effort for an emergency dinner that tastes like anything but that. Accompany these easy vegan sloppy joes with fresh corn on the cob (or sweet potatoes during cooler months) and raw veggies or simple salad. Last time we made this, we had some pickled carrots and onions on hand, which suited perfectly.
Serves: 3 to 4
Time to table: 15 to 20 minutes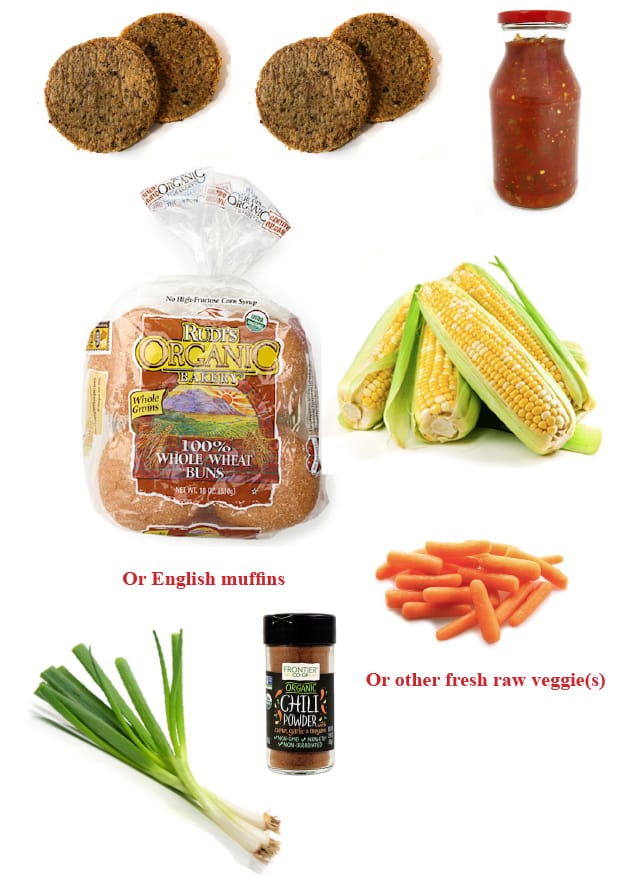 What you need
1 ear fresh corn per person (or you can sub sweet potatoes in winter)

1 package (4-pack) vegan burgers

16-ounce jar salsa (any chunky variety works; black bean and corn is great here!)

Chili powder

1 bunch scallions

1 package whole-grain English muffins or burger buns

Fresh easy-to-serve raw veggies (carrots, baby carrots, peppers, tomatoes, etc.)
You probably already have on hand
Olive or other vegetable oil
What to do
1  Cook the corn in your preferred way — microwave or stovetop.
2  Crumble up the veggie burgers. Heat a little oil in a skillet and add the crumbled burgers and the salsa. Add a couple of teaspoons of chili powder and cook over medium heat until the mixture is piping hot and starting to brown, about 8 minutes.
3  If using English muffin, split one per person and toast the halves. If using burger buns, split them, but no need to toast unless you prefer to.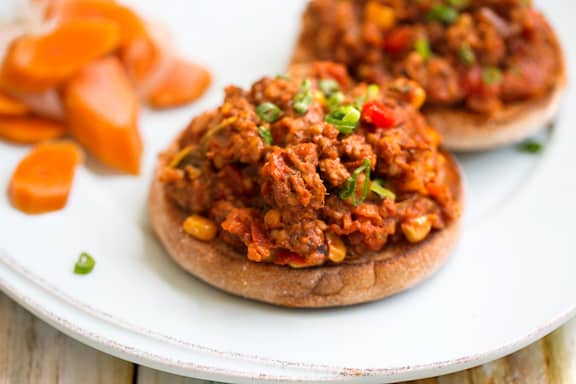 4  For each serving, arrange two halves of English muffin or burger bun on individual plates. Ladle some sloppy joe filling on each, and garnish with a sprinkling of sliced scallion.
5  Serve with cooked corn and your raw veggie or veggies of choice.
Photos: Hannah Kaminsky