This gorgeous vegan cream of asparagus soup is a nice introduction to meals as a first course, since it's nice and light. It used to be that asparagus was primarily available in spring (and that's still when it's best and less expensive), but now that it's become more year-round, you can enjoy this soup nearly any time of year. Serve with a crusty whole-grain bread, if you'd like.

Serves: 6
2 pounds asparagus
1 ½ tablespoons olive oil
1 large onion, chopped
1 clove garlic, minced
1 large potato, finely diced
32-ounce container vegetable broth, preferably low sodium
¼ cup chopped fresh dill, plus more for garnish
1 teaspoon dried basil
Pinch of nutmeg
½ to 1 cup plain unsweetened nondairy milk, or as needed
Salt and freshly ground pepper to taste
Cut about 1 inch off the bottoms of the asparagus stalks and discard. Scrape any tough skin with a vegetable peeler. Cut the stalks into approximately 1-inch pieces, setting aside the tips.
Heat the oil in a large soup pot. Add the onion and garlic, and sauté until golden.
Add the asparagus pieces, potato, broth, dill, basil, and nutmeg. Bring to a slow boil, then cover and simmer gently until the asparagus and potatoes are tender, about 15 minutes. Remove from the heat.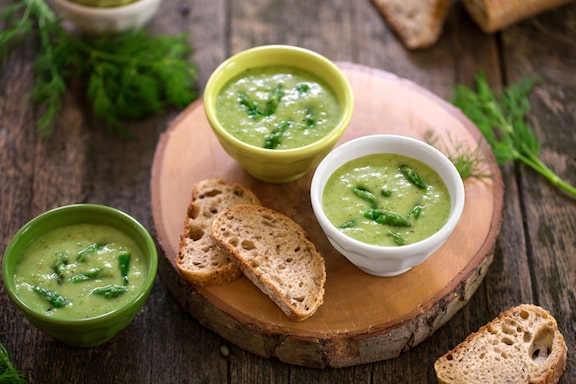 Insert an immersion blender into the soup pot and process until smoothly pureed. Or, with a slotted spoon, transfer the solid ingredients to the container of a food processor or blender. Process in batches until smoothly pureed, then stir back into the liquid in the soup pot.
Add enough nondairy milk to give the soup a slightly thick consistency. Season with salt and pepper and return to low heat.
You can serve this at once, or let it stand for an hour or so to flavor, then heat through as needed.
Either way, steam the reserved asparagus tips until tender-crisp just before serving, Distribute them over individual serving of soup as garnish. Garnish each serving with a few fronds of dill as well.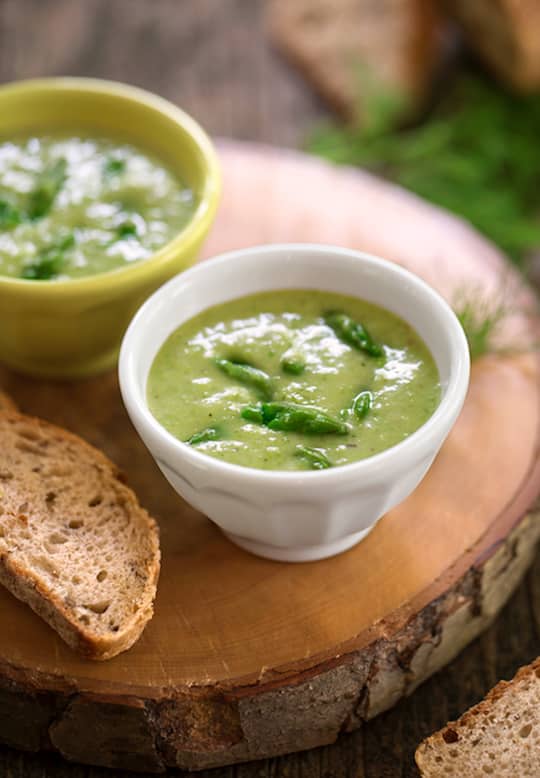 Photos: Hannah Kaminsky