Asparagus is a vegetable that's long been linked with the arrival of spring, only recently becoming available year-round. Springtime is still its true season, and it can be said that it's sweeter, and more tender at this time of year. No matter when you enjoy it, asparagus is welcome in a variety of fresh and tasty dishes.
Here are more tips on buying, cooking, and enjoying asparagus. Let's start with Pasta with Asparagus and Marinated Artichoke Hearts (shown above).This simple pasta dish is filled with flavorful asparagus and artichokes, and is sure to please in late spring and early summer. This can be served warm or at room temperature.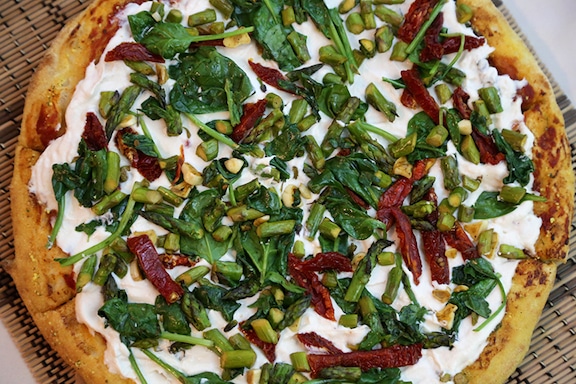 White Pizza with Asparagus and Spinach is a light, lively pizza that's perfect for a springtime meal, featuring favorite spring veggies, asparagus and spinach. If you prefer a red pizza to white, simply omit the silken tofu sauce and replace it with marinara sauce, or even fresh tomato slices.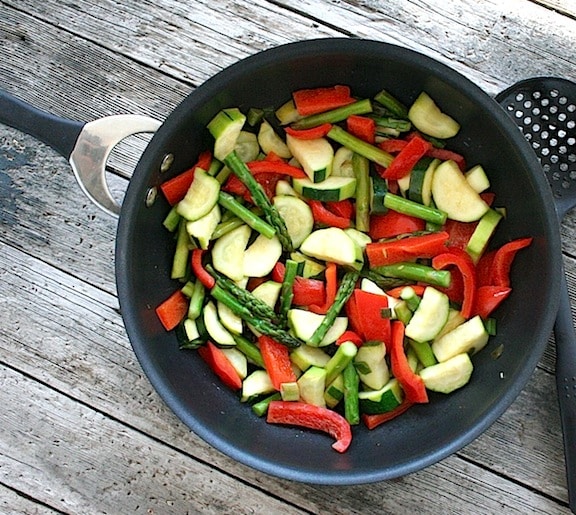 Asparagus, Squash, and Bell Pepper Sauté features an appealing vegetable trio — asparagus, zucchini or summer squash, and red bell peppers — is enlivened by a wine-scented sauté. This colorful veggie side dish is perfect for embellishing everyday meals as well as spring holiday dinners.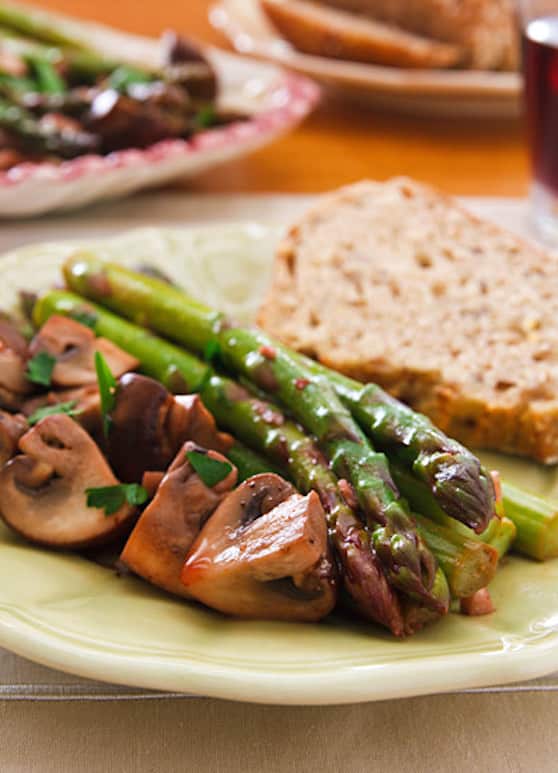 Garlicky Asparagus with Mushrooms is inspired by the Spanish tapas dish, champiñones al ajillo, which relies on mushrooms alone. Asparagus makes it a more substantial dish, and benefits nicely from the dry red wine and other seasonings.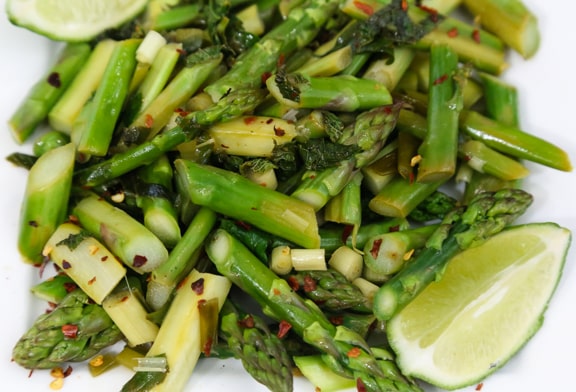 Thai Asparagus Treat showcases tender asparagus is a welcome sign of spring embellished with Thai seasonings — including lemongrass if you can find some.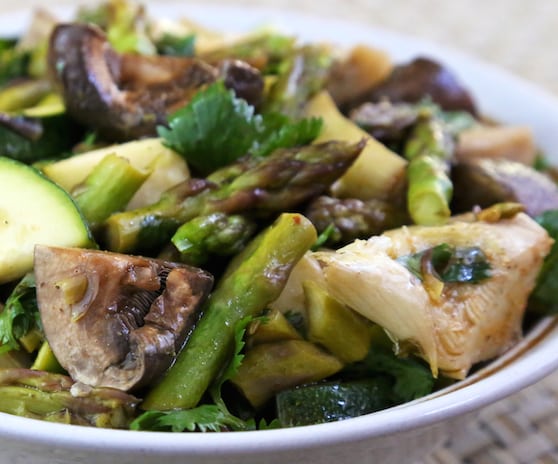 Mushroom, Asparagus, and Artichoke Salad is a tasty cold dish of small mushrooms, slender asparagus, and artichoke hearts. It's good served as an appetizer or first course with thinly sliced baguette. It's especially nice as a starter for springtime celebrations.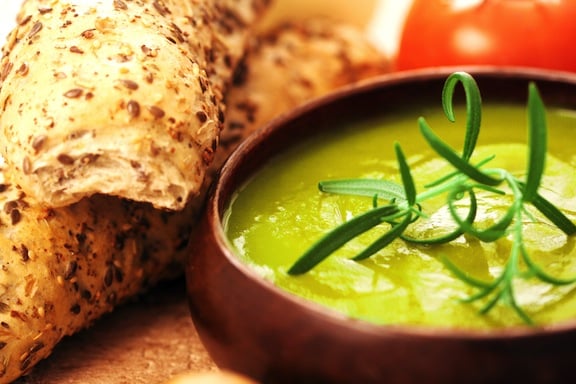 Cream of Leek and Asparagus Soup tastes even better if made a day ahead. It's a light first course for a festive spring holiday or company meal or as an everyday kind of soup served with sandwiches or wraps.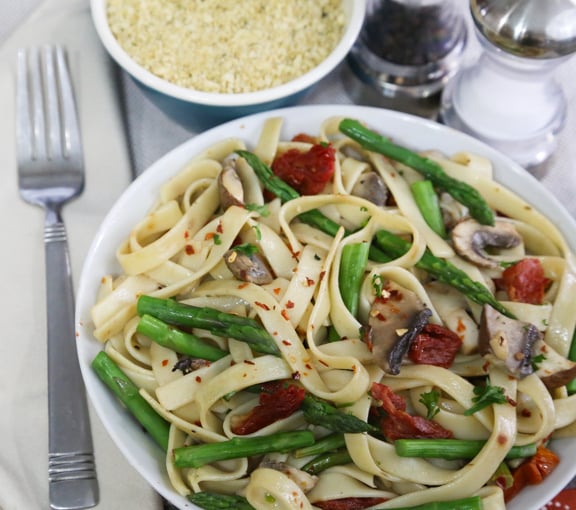 Linguine or Fettuccine with Asparagus and Portobella Mushrooms is a quick Italian-style vegan pasta dish features fresh asparagus, which gives it a springtime touch, and portabella mushrooms, which makes it substantial.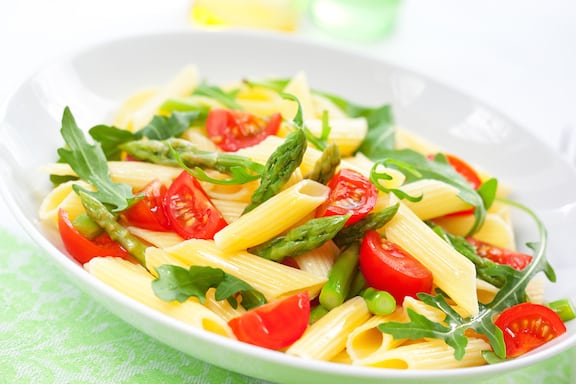 Mellow asparagus and bold arugula contrast nicely in this simple, delicious Pasta with Asparagus and Arugula. It's perfect springtime fare, though you can enjoy it year round.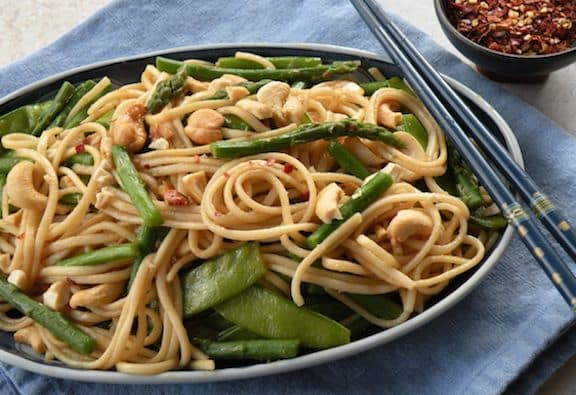 In Udon Noodles with Asparagus and Cashews, hearty noodles are intertwined with tasty cashews and tender asparagus in a light sauce. Serve this Asian-style dish with a simple tofu or tempeh preparation. It's good served warm or at room temperature.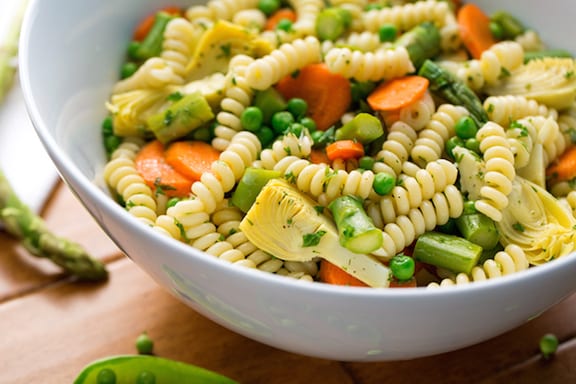 Spring Pasta Salad with Asparagus and Fresh Peas is great made with orecchiette or other small, delicate pasta, but you can use any short pasta shape you'd like.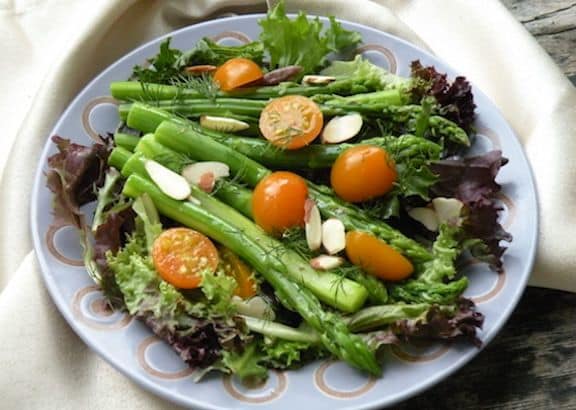 In Marinated Asparagus in Mustard Vinaigrette, mild asparagus benefits from the tang of a mustard dressing. This simple room temperature preparation makes a nice first course for any kind of meal for everyday or company.