This creamy dairy-free cauliflower soup, enhanced with any of the garnishes recommended, makes a soothing introduction to a meal. It's great with veggie-filled wraps and main-dish salads. Adapted from Vegan Soups and Hearty Stews for All Seasons. Photos by Evan Atlas.
Serves: 6
1 tablespoon olive oil
1 cup chopped onion
2 to 4 cloves garlic, minced
32-ounce carton low-sodium vegetable broth,
or 4 cups water with 2 vegetable bouillon cubes
1 large head cauliflower, chopped into 2-inch chunks
(reserve about 2 heaping cups for garnish)
2 medium potatoes, peeled and diced
2 teaspoons salt-free all-purpose seasoning
(like Frontier or Mrs. Dash)
1 teaspoon ground cumin
15- to 16-ounce can (drained and rinsed)
great northern or cannelloni beans, or 1 ½ cups cooked
1 ½ to 2 cups unsweetened rice milk
or other nondairy milk, or as needed
Salt and freshly ground pepper to taste
¼ cup chopped fresh herbs (choose from among parsley,
dill, chives, and oregano, or a combination), or as desired
Garnish:
Reserved cauliflower florets
1 medium red bell pepper, cut into short narrow strips
Baby spinach (3 to 4 big handfuls)
Heat the oil in a soup pot and add the onion. Sauté over medium-low heat until translucent. Add the garlic and continue to sauté until both are golden.
Add the broth, cauliflower, potatoes, seasoning, and cumin. Bring to a rapid simmer, then lower the heat. Cover and simmer gently for about 20 minutes, or until the vegetables are tender. Remove from the heat.
If using a food processor or blender, transfer the vegetables into the container with a slotted spoon , followed by the beans. Add a little of the broth and puree until completely smooth. Transfer the puree back into the soup pot.
If using an immersion blender, add the beans to the cooked veggies in the soup pot. Insert the immersion blender and process until soup is smoothly pureed.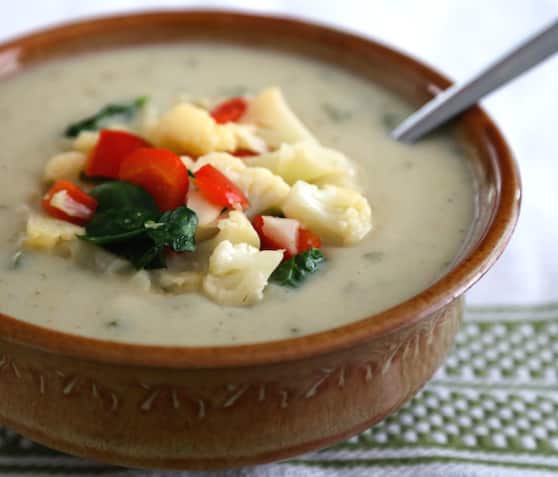 Stir in enough rice milk to give the soup a medium-thick consistency, then season with salt and pepper. If time allows, let the soup stand off the heat for 1 to 2 hours, then heat through before serving.
Just before serving, stir in the fresh herbs of choice. Steam the vegetables for the garnish in a small skillet with just enough water to keep moist until just done, and arrange some of it in the center of each serving. Or, you can just stir these veggies into the soup.
Nutrition information
Per serving: Calories: 206;  Total fat: 5g;  Protein: 9g;  Fiber: 7g;  Carbs: 35g; Sodium: 126mg