You won't believe that this light and luscious pie—kissed with the dynamic duo of peanut butter and dark chocolate—is made with tofu and only a touch of agave nectar for sweetness. In fact, this is a nutrient-rich dessert you can really feel good about indulging in! Recipe from Plant-Powered for Life: Eat Your Way to Lasting Health with 52 Simple Steps and 125 Delicious Recipes, © 2014, Sharon Palmer. Reprinted with permission from The Experiment. 
Serves: 8 (one-eighth pie each)
Graham Cracker Crust:
22 graham cracker halves (whole wheat or gluten-free, if desired)

½ teaspoon cinnamon

2 tablespoons wheat germ or ground flaxseeds

¼ cup melted soft dairy-free margarine 
Filling:
One 12.3-ounce package extra firm silken tofu

1 cup unsalted creamy peanut butter

1½ teaspoons vanilla extract

5 tablespoons agave nectar

2 tablespoons unsweetened plain plant-based milk 
Garnish:
⅓ cup dairy-free dark chocolate chips

2 tablespoons chopped peanuts
Preheat the oven to 375°F. 
Add the graham crackers to a blender in batches and pulse into crumbs, or crush into crumbs using a rolling pin.
Mix the graham cracker crumbs, cinnamon, and wheat germ in a medium bowl. Stir in the melted margarine. Press the crumb mixture into a 9-inch pie pan. Bake for 10 to 12 minutes. Remove the crust from the oven and set it aside to cool. 
Meanwhile, place the tofu, peanut butter, vanilla, agave, and plant-based milk in a large mixing bowl. Beat with an electric mixer until smooth, fluffy, and creamy, scraping down the sides of the bowl as needed.
Place the dark chocolate chips into a small, microwave-proof dish and microwave on high for 2 minutes. Stir the chocolate with a spoon until smooth.
Pour the tofu filling evenly into the cooled graham cracker crust. Drizzle the chocolate over the top of the pie. Sprinkle with the chopped peanuts. Chill for 2 hours before slicing.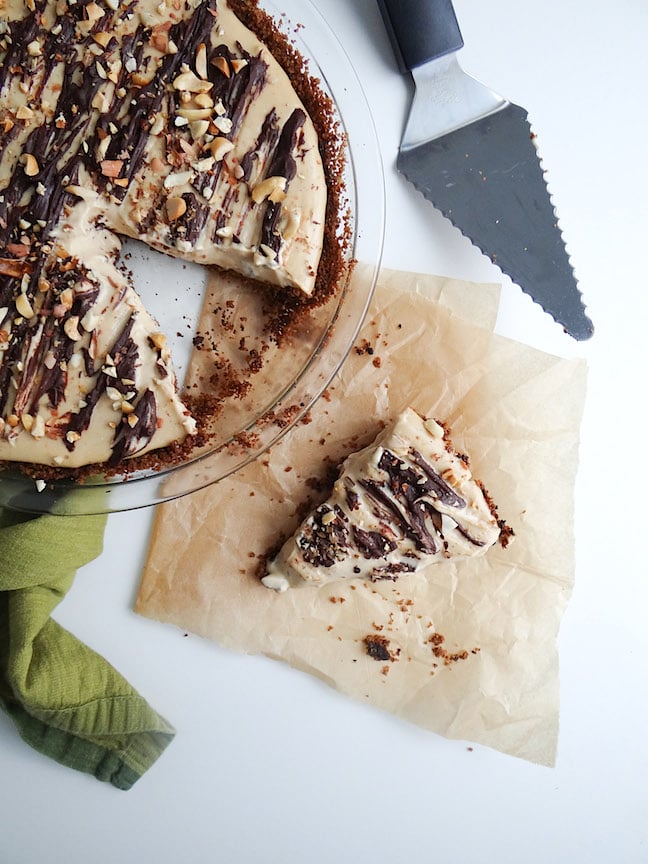 Notes: Choose a dairy-free margarine that comes in a tub, not in sticks. Earth Balance is one good option, but there are other brands that also have a good low saturated fat profile. You may also use chopped dairy-free dark chocolate instead of chocolate chips. 
Variation: Stir one sliced banana into the filling before step 7 to make Peanut Butter Banana Pie. 
Nutritional Information: Per Serving: 374 calories, 12 g protein, 25 g carbohydrate, 27 g fat, 6 g saturated fat, 4 g fiber, 11 g sugar, 134 mg sodium
*This post contains affiliate links. If the product is purchased by linking through this review, VegKitchen receives a modest commission, which helps maintain our site and helps it to continue growing!