Here's a clever way to turn quinoa into tasty crispy crumbs. They pack more nutrition than breadcrumbs and are naturally gluten-free. Bake up a batch and you'll see why we love to have them on hand. These are easy to make in just a few steps:
1  Cook quinoa as usual — combine 2 cups of water in 1 cup quinoa in a medium saucepan. Bring it to a rapid simmer, lower the heat and cook for 15 minutes, or until the water is absorbed. For more flavor you can add a vegan bouillon cube to the water or use vegetable broth instead.
2  While the quinoa is cooking, heat the oven to 400° F.
3  Spread the cooked quinoa on a parchment lined roasting pan and put it in the center of the oven. Stir the quinoa up every five minutes or so, so that it bakes evenly — it browns more quickly along the edges.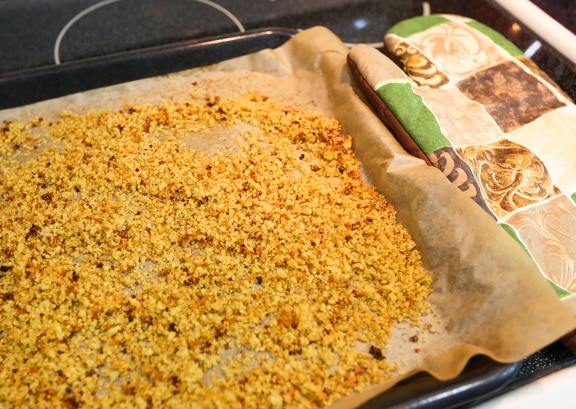 4  Bake for about 25 minutes, or until the quinoa is golden brown and crispy. Don't overbake, because it crisps up as it cools.
5  Once it's completely cooled, use what you'd like, then store whatever you don't use in a covered container in the fridge.
Some ways we like to use it: 
Crispy quinoa crumbs make salads more exciting, below. 

Green vegetables get some serious crunch with crispy quinoa crumbs, as shown at top.

Use crispy quinoa crumbs to top casseroles — sprinkle them on after the casserole bakes.

They're also great for topping simple pasta dishes.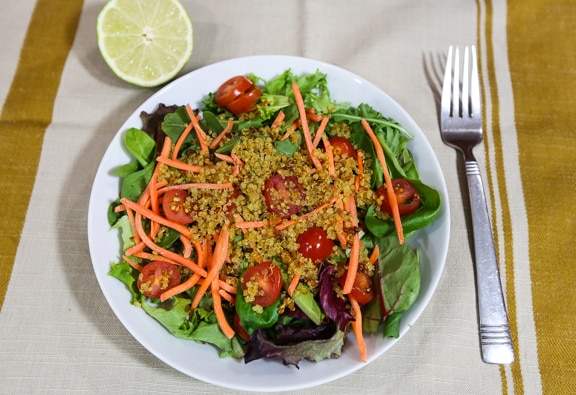 Photos by Evan Atlas.